Sylvester Stallone trains his daughters to walk in high heels every day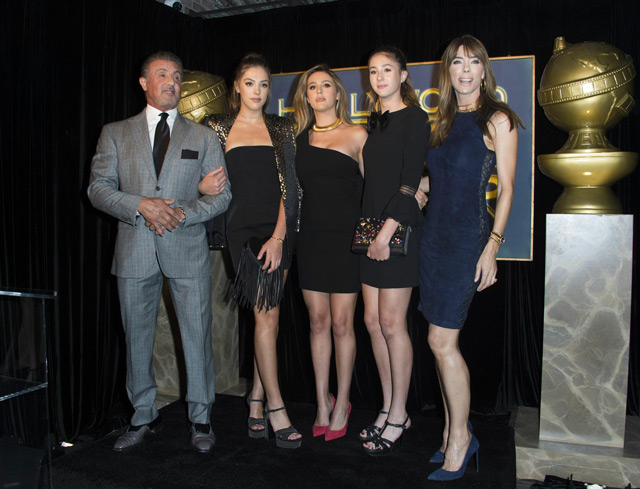 Sylvester Stallone trains his daughters to wear heels for one hour every day, which sees them work out with the platform footwear on.
The 70-year-old actor - who has children Sophia, 20, Sistine, 18, and Scarlet, 14, with his wife Jennifer Flavin - undergoes hourly workout sessions with his brood, who are forced to exercise in stilettos, to help them master their strut in sky-high platform shoes without taking any tumbles.
Speaking about the 'Creed' actor's unusual training method, Scarlet told PEOPLE: "He makes me train in heels for an hour every day so I don't fall.
"I'm the most clumsy out of all of them."
And Scarlet's sisters have revealed their nickname for the youngest sibling is "baby giraffe" because she is always falling over.
Sophia said: "I think out of everyone, Scarlet will trip ... We call her the baby giraffe."
However, Sylvester isn't only their high heel walking coach, but he is also their hairdresser, and has coloured his oldest two children's long locks before.
Hair colourist Michelle Pugh said: "The girls and Jennifer have told me Sly's father was a hairdresser -- and they said he also trained to do it before becoming an actor.
"He coloured Sistine and Sophia's hair blonde when they were younger, and Scarlett had some lightening he had done on her a few months back."
Meanwhile, the trio - who will share the title and duties of Miss Golden Globe at the upcoming awards ceremony - all plan to colour co-ordinate for the 2017 Golden Globes.
Speaking about their wardrobe choices for the annual bash, Sistine said: "I think we're all going to have the same colour scheme so we match in that department but each have a different style that complements our body shape and incorporates each of our individual personalities in each look."
Although Sophia has admitted as the oldest she feels she has to look more "sophisticated" than the others.
She explained: "Since I'm the oldest, I try to stay a bit more sophisticated and keep it simple.
"Out of everyone I think Sistine can rock the complex, cool, rocker look."
Follow Emirates 24|7 on Google News.