Taxmen find Shahid in shorts at Priyanka's home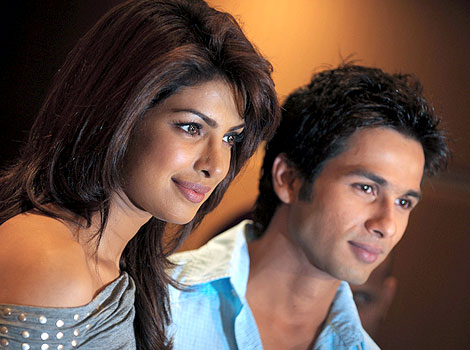 Bollywood actors Shahid Kapoor and Priyanka Chopra can't continue denying their relationship after Monday's tax raids.
It has now emerged that the income tax officers who rang Priyanka Chopra's doorbell early in the morning were greeted by Kapoor, who was clad only in his shorts.
For a moment, they thought they had knocked the wrong door. Apparently, Shahid left the house soon after, the Indian newspaper Mid-Day reports.
"Shahid was at Priyanka's house, but he didn't open the door. She has servants, so why would he open the door? Shahid had spent the night at Priyanka's place and she had come from walking the ramp at a fashion show for Shabana Azmi. The two are trying to spend as much time together before Priyanka starts the promotions for her movie 'Saat Khoon Maaf'," said a source close to Kapoor.
"Shocked as we were, we knew we had a raid to carry out and that's precisely what we did. It was meant to be a swift operation and security personnel in the building were not given a chance to warn the actor that we were on the way up," the paper quoted an I-T official as saying.
Both actors were unavailable for comment.
Follow Emirates 24|7 on Google News.