Taylor Swift trying to date Bradley Cooper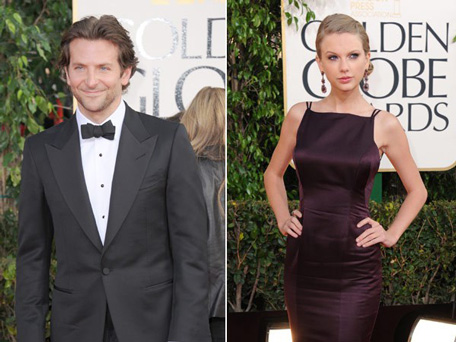 Taylor Swift got her pal Jennifer Lawrence to ask Bradley Cooper out on a date at the Golden Globe Awards party on Sunday but he 'politely declined'
The 23-year-old 'I Knew You Were Trouble' singer - who split from One Direction star Harry Styles earlier this month - reportedly begged Jennifer Lawrence to set her up with her 38-year-old 'Silver Linings Playbook' co-star at a Golden Globe Awards party on Sunday (13.01.13) but he wasn't interested.
A source told gossip website RadarOnline.com: "Bradley has absolutely no intention of getting together with Taylor.
"First of all, her reputation precedes her. Bradley is very wary of dating someone who is a bit of a serial dater like Taylor.
"He thinks she's far too young for him and wants to date someone his own age, not 16-years younger because he's ready for something serious. It was a little awkward for Bradley. Jennifer came to him and told him that Taylor was interested in getting together. He had to politely decline, knowing full well that Jennifer and Taylor are friends.
"It was an ambitious move from Taylor, but she's going to have fixate on someone else as Bradley's just not that into her."
The 'Hangover' heartthrob recently split from his on/off girlfriend Zoe Saldana, 34, while Taylor is back on the market after breaking up with Harry, 18, while on holiday in the Virgin Islands.
Taylor is famed for writing tracks about her exes - which include Conor Kennedy, Taylor Lautner, Jake Gyllenhaal and John Mayer - but while many fans guess as to who the subjects of her songs are, she rarely tells.
Speculation is rife that Harry could be the subject of her next track.
Taylor has been open about using her failed relationships as subjects for her tracks.
She said: "Well, it's not like it's in fine print but music is absolutely everything that I am and everything that I stand for.
"It's not my fault if someone gets into a relationship with me and then cheats and I write a song about it."
Follow Emirates 24|7 on Google News.