The Wedding Party: Aishwarya, Abhishek & Amitabh show stopper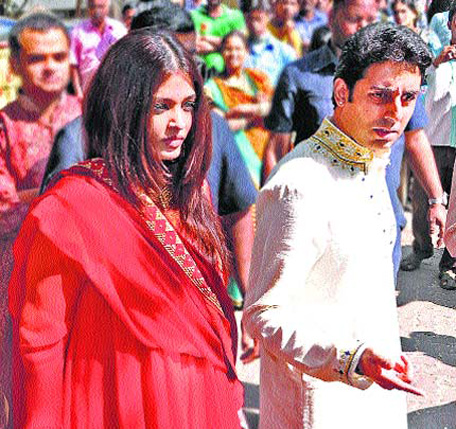 Bollywood's Bachchan family have become the most sought-after and committed guests of all parties, weddings and events this season. They have become a star attraction among all stars in any events.
The four of them - Amitabh Bachchan, Jaya Bachchan, son Abhishek Bachchan and daughter-in-law Aishwarya Rai Bachchan make quite a team. Not to forget the crowd puller, little Aaradhya Bachchan.
Often dressed to perfection the four make their appearance, pose for the cameras and look composed. That was not the case in director Shaad Ali's wedding.
As the bridgroom's wedding procession took to the street of Mumbai and inched towards the bride Aarti Patkar's residence, Abhsihek Bachchan broke into a spontaneous dance.
He completely soaked in the celebratory mood and danced his heart out. Soon Abhishek pulled wife Aishwarya to join him.
Father Amitabh Bachchan couldn't let the two have all the fun and joined the party in the street. Mom Jaya Bachchan was happy cheering for them from the roadside.
'Danced on the streets of Mumbai after a very long time for the baraat of my friend Shaad Ali's wedding.Was great fun! #MeriYaarKiShaadi," Abhishek tweeted.
Amitabh Bachchan wrote, 'The 'barat' was Shaad Ali's, as he gets married to Aarti .. so the entire family joined in for this traditional bearing .. ah ..fun... Weddings are such a special moment ..meeting long lost friends, happy and dressed up in traditional wear. talking of old times ..!'
(Twitter)
The trio displayed their street dancing skills for almost ten minutes and by-standers were stunned. The Bollywood celebrities, they had only seen on screen, were giving them live performance without any cost!
Cars came to screeching halt and soon phone cameras were out to capture this rarest of rare occasion.
The traffic stopped moving while the wedding party proceeded at a snail's pace. The Sunday traffic was not complaining, neither the participating on-lookers as this will go down in history as the only celebration where Amitabh, his son and daughter-in-law danced together in the street of Mumbai.
The Bachchan trio is quite a show stopper - literally!
MUST READ:
Kanye West to Bollywood's biggest: Where to go celeb spotting in UAE this month
'Happy New Year': Shah Rukh Khan, Priyanka Chopra are back
Break-up effect: Selena Gomez upset; Justin Bieber visits cancer patient
Follow Emirates 24|7 on Google News.