Things to do in Maldives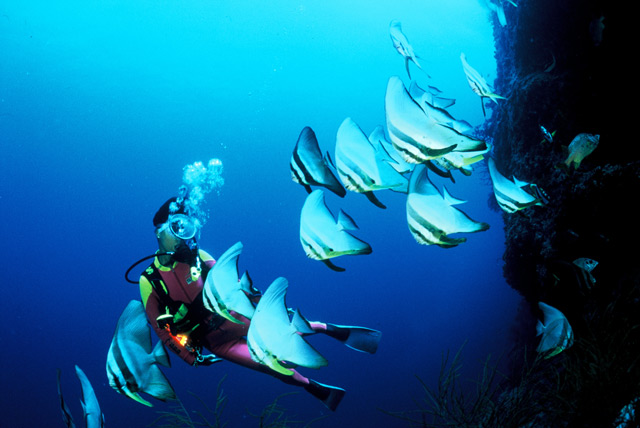 Maldives, the sunny side of life is blessed with magical and breathtaking displays of sunshine and enjoys a blend of dry and wet season.
The amalgamation of the hot and humid weather with cool sea breezes and periodic rain is perfect for water activities throughout the year.
• Scuba diving - Scuba diving is open for beginners and pros alike in Maldives.
There are hundreds of dive centers and dive schools offering world-class diving courses in Maldives.
These dive centers offer the services of PADI licensed instructors, who teach the skills of scuba diving.
Once you complete an open water dive course or scuba diver course in Maldives, you will be certified to dive anywhere in the world, as these courses are licensed by PADI.
• Snorkeling - Snorkeling in Maldives is an uncomplicated activity available to everyone. You do not have to be a great swimmer to be a snorkeler. Trainers at resort islands and other tourist establishments train the visitors.
• Thrill seeking water sports - All the resorts and guest houses provide unlimited access to exciting water sports activities.
Some of the water sport activities include canoeing, catamaran sailing, water Skiing, fun tube, kayaking, wakeboarding, Jet Ski tours, parasailing, banana boat towing, windsurfing, snorkeling, kite surfing and knee boarding. Modern technology has played a key role in introducing revolutionary new water sports concepts.
Surfing enthusiasts from around the world visit Maldives annually.
• Underwater Spa: The first underwater spa in the world was created in Maldives in a resort in North Male' Atoll.
It has two glass-walled underwater treatment rooms with panoramic views of a coral reef and curious fish, and a soothing design inspired by the colors and textures of the sea.
The signature underwater spa experience lasts for three hours.
• Underwater Scooter: An underwater scooter yields a unique thrill for non-divers and even non-swimmers.
These scooters were invented to provide the thrills of scuba diving without cumbersome gear such as a weight belt or strapped tank.
The scooter has a self-contained breathing environment that makes it natural and comfortable to breathe as it travels underwater at a depth of 5m and with a speed of about 2kph.
The scooters are powered by electric battery and are available for one or two passengers.
Follow Emirates 24|7 on Google News.