Tidal wave unites Jay Z, Beyonce, Kanye, Rihanna, Madonna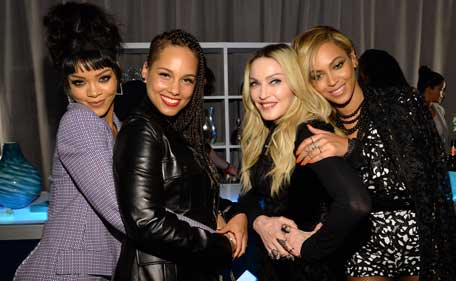 Music impresario Jay Z has launched Tidal - positioned as an ad-free, high-quality streaming-music subscription service priced starting at $10 per month - with the participation of numerous big-name artists including Alicia Keys, Beyonce (who is married to Jay Z), Chris Martin of Coldplay, Usher, Nicki Minaj, Rihanna, Kanye West and Madonna.
Jay Z, the stage name of Shawn Carter, in January acquired Sweden-based Aspiro for $56 million. The artists announced onstage at the New York event Monday were introduced as co-owners of the company, representing the first artist-owned digital-music service - a salvo lobbed against companies like Spotify and Pandora.
Getty
"Our goal is simple: We want to create a better service and a better experience for both fans and artitsts," Alicia Keys said at the event. "We believe that it is in everyone's interests - fans, artists and the industry as a whole - to preserve the value of music, and to ensure a healthy and robust industry for years to come."
Tidal's mobile launch partner is Sprint. Other artists participating in the service include Arcade Fire, Calvin Harris, Daft Punk, Jack White (formerly of the White Stripes) and Deadmau5. Tidal was launched with the hashtag "#TIDALforALL" - although, obviously, it's only for those able or willing to pay at least $120 annually for audio and video content.
Getty
The Tidal service will compete with other subscription-music services including Spotify and Apple's forthcoming music-streaming service, based on its acquisition of Beats Music, which is expected to launch this summer.
Tidal will not offer a free version of the service; the standard-audio version (Tidal Premium) will be $9.99 per month and the high-def audio version (Tidal HiFi) will be $19.99 per month. Both tiers are free to try out for 30 days, according to the company.
Getty
Tidal says it provides a library of more than 25 million tracks, 75,000 music videos and curated editorial articles. The service is available across iOS and Android devices, as well as in Web browsers and desktop players, available in the U.S. and 30 other countries at launch. Tidal provides streaming quality at more than four times the bit rate of competitive services, according to the startup.
Some of the world's biggest names in music including Cold Play's Chris Martin and Rihannaare backing Jay Z's new global streaming music service Tidal, which launched on Monday, and is billing itself as the first ofits kind owned by artists.
Getty
Co-owners Kanye West, Daft Punk, Alicia Keys, Madonna and other musicians were in New York on Monday to sign a declarationof a "whole new era."
Still, Tidal is entering a crowded space, with stiff competition from Spotify, Pandora Media Inc and Clear Channel's I Heart Radio. But Jay Z's deep music ties could help distinguish Tidal from its rivals.
Musicians complain they are not being properly compensated for digital music rights. Additionally, music downloads have been shrinking as streaming services boom in popularity.
Getty
The Beatles' Ringo Starr addressed the issue with Reuters TVon Monday: "All I ever hear is that your record has been streamed 17 million times and they give you a check for 12 bucks. I don't understand that."
Last year, Taylor Swift pulled her entire catalog from Spotify in a shocking move. Swift's catalog is available on Tidal but her latest "1989" is not.
Tidal has deals for rights with all the major record labels, a representative with the company said.
Tidal is offering a mix of stock and cash to its owners for promotional support, which does not include rights to the music, the Financial Times reported. One partner was offered $3 million for a 3 percent stake, the report said.
Tidal is an offspring of Jay Z's company Project Panther Bidco, which acquired more than 90 percent of the Swedish streaming music company Aspiro AB for $54 millionearlier this month.
For $19.99 a month, subscribers have access to millions of songs and videos in high fidelity. A $9.99 option offers regular sound quality. Tidal is available in 35 countries and subscribers can listen offline to as many songs as their device will hold.
Follow Emirates 24|7 on Google News.