Tiger Shroff roars, flexes muscles in 'Heropanti', but is it enough?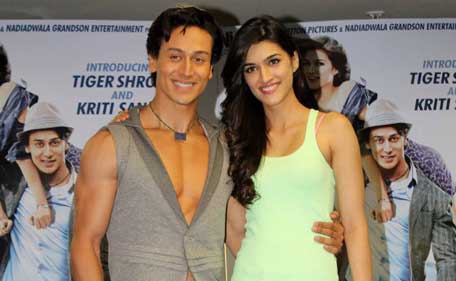 Love makes the world go round. But, in Bollywood, it also makes one do strange things. While the leading ladies happily dance on snow-clad mountains while balancing impressively on their heels and waving their fine, chiffon sarees, the heroes are busy flexing their muscles and single-handedly whipping anyone daring to crash their "happily ever after" party.
Not only does this put Cupid to disgrace, it also leaves the audience with a nagging headache.
'Heropanti' is a quintessential Bollywood romance, where lovers have to fight the society, angry uncles and dominating fathers, who give love a bad name, to win over their ladylove.
A trend that attained immense popularity after Salman Khan exploded on-screen with his charm in 'Maine Pyaar Kiya'. While director Sabbir Khan pays tribute to the film by playing a scene in 'Heropanti', his own take on romance is a tad insipid, archaic in its thinking and unchanged in treatment and characterisation.
The older men, who are anti-love, appear consistently grumpy and roll their eyes and growl at any given point. Armed with hockey sticks and guns (on special occasions), they spend much of their time in car chases and scouting for "lovers" who've escaped their clutches.
The father of the "bride-to-be" is always angry and unhappy with the boy his girl chooses to love.
The women, well, there aren't any barring the pretty girl in love, and her friend. There are two unknown faces, but they are given token lines and limited scope to express and leave an impression.
The lovers – boy and girl – are both good-looking, and the camera favours them over the rest of the cast in tight close-ups and slow motions, as the wind blows their hair.
The boy sports the six-abs, and an unusually pretty face, while the girl flutters her eyelashes, flashes her pearly whites and flaunts her tiny waist.
It's clearly more about how they look, and what they can do with their bodies, and less about the passion (or the lack of it) they share.
Sabbir's narrative is linear, and painfully predictable. He throws in the staple song-and-dance every time he attempts to capture love. They are either transported to scenic locations to sing, or are joined by a bunch of identically dressed synchronised dancers.
With lack of creative lines, and none that pack a punch, Tiger Shroff is left to repeat his 'Heropanti' line, over and over again, leaving us rather exhausted.
And, to make matters worse, an ambitious Sabbir even pitches issues like "women's empowerment" inappropriately in his Bollywood romance.
Tiger is earnest in his debut, but he's got a long way to go before winning the applause. His somersaults are impressive, no doubt, but not enough to captivate the audience. Amusingly, he's an odd mix of Bollywood stars Salman and Hrithik Roshan. He's got a body like Salman, and insists of flashing his abs often, and twists his body in strange dance moves much like Hrithik.
What he doesn't display is his actor-father's rustic charm and earnestness. Despite Jackie Shroff's tune from his iconic movie 'Hero' playing in repeat mode, it doesn't do much to salvage the situation.
His on-screen partner Kriti Sanon bears an uncanny resemblance to Alia Bhatt. And, insists on letting her body do much of the work.
Not that one looks for logic in movies like these, but sometimes it's just tough to ignore. At one time, the girl finds herself locked in a room with the boys, but comfortably walks out the door even though the boys believe they are imprisoned. At another, the girl eliminates three out of the four boys in an identity line-up, but her ferocious uncles insist on pulling her hair and forcing her to point out the "right guy".
On a different occasion, the boy and girl sneak out for a night-out at the discos, even though her vicious father and uncle are with her, and she had only been rescued from a rape attempt from the day before.
While Salman Khan's innocent love affair might've worked in the 80s, in 2014 we need a little more than six-abs and a slim waist to do the trick.
Follow Emirates 24|7 on Google News.