Trouble in paradise? Brad Pitt and Angelina Jolie stay apart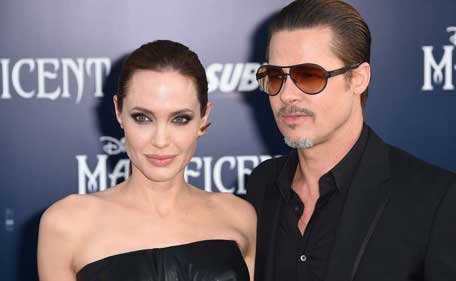 Hollywood power couple Brad Pitt and Angelina Jolie spend two days away from each other every week after experiencing 'big problems' while shooting movie 'By The Sea' together last year.
The couple - who married last August after nine years together - experienced 'big problems' when shooting 'By The Sea' together last year but have found their relationship is much better now Angelina retains a hotel suite to escape to on a regular basis.
AFP
A source said: "When Brad and Ange were filming together last year they discovered big problems arose when they spent too much time together. It was a working honeymoon and the days were intense.
"Then, in December, Ange got chicken pox and checked into Raffles L'Ermitage in LA to recouperate.
"Her mother spent a lot of time there in the last years of her life and Angelina has stayed there regularly since.
Reuters
"The time away from Brad really put their problems into perspective and since then she's maintained a suite there, which she visits for a couple of days a week for time out when they're in LA, sometimes with their six kids, sometimes without.
"Other times, she just makes sure she takes two days out to focus on herself."
Getty
And the time apart has made the pair 'appreciate' one another more and enjoy their time together as 'special'.
The source added to Grazia magazine: "Their brief periods of separation help them appreciate each other more. Because they're creative people, they need their own space and this balance has helped transform their relationship.
"It's no secret that they have a fiery relationship at times. That's why it works. Now they think giving each other more space makes their time together more special."
Also see: Movie Listings in UAE
Follow Emirates 24|7 on Google News.