TV star Erin Andrews wins $55 million in her nude video case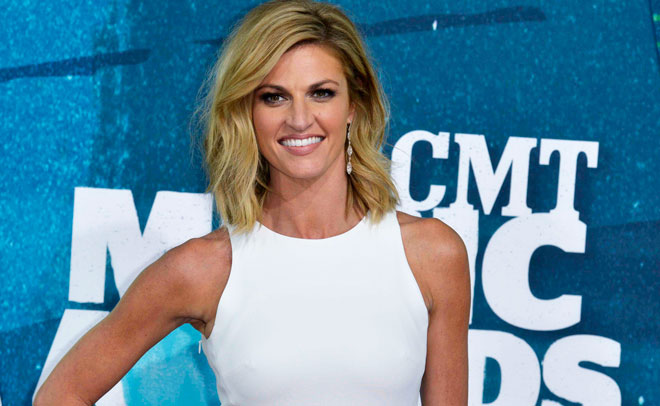 Fox sportscaster Erin Andrews was awarded $55 million on Monday in her lawsuit over a secretly recorded video that captured her naked, the Associated Press reports.
Andrews sought $75 million from the owner of the Nashville Marriott at Vanderbilt University, where she was staying in 2008 when the incident occurred, and Michael David Barrett, the stalker who booked hotel rooms next to her in Nashville and Columbus, Ohio, and secretly recorded (via a peephole) and released videos of her naked.
Barrett, whom the jury found to be 51% at fault, has to pay more than $28 million. Nashville Marriott owner West End Hotel Partners and former operator Windsor Capital Group, which were found to be 49% at fault, have to pay more than $26 million.
The owners of the Tennessee hotel had argued that Barrett was solely to blame for the crime. Andrews, however, maintained that someone affiliated with the hotel gave out her room number to Barrett and placed him near her.
Barrett was sentenced to two and a half years in prison after admitting to stalking Andrews, altering hotel room peepholes and taking nude videos of her.
The Fox Sports reporter and 'Dancing With the Stars' co-host broke down in tears when jurors announced the verdict.
Andrews testified in the early days of the trial that she suffers from depression as a result of the video, which she said she knows people are still watching.
"This happens every day of my life," Andrews said. "Either I get a tweet or somebody makes a comment in the paper or somebody sends me a still video to my Twitter or someone screams it at me in the stands and I'm right back to this. I feel so embarrassed and I am so ashamed."
Andrews' father, Steve Andrews, who also testified at the trial, said that his daughter hasn't been the same since the incident.
"She's afraid. She's afraid of crowds, afraid of people. She doesn't trust anymore," Andrews said about his daughter.
Follow Emirates 24|7 on Google News.