Tyga 'has given up on Kylie Jenner'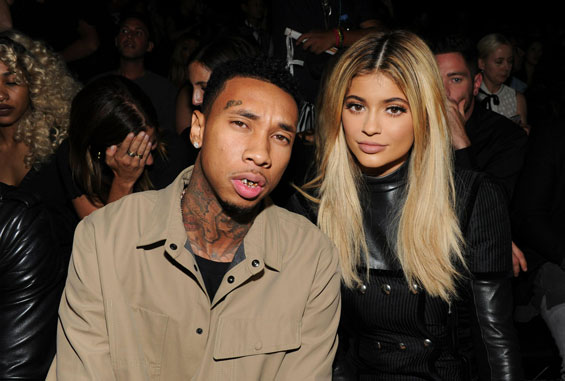 Rap star Tyga has given up hope of rekindling his romance with Kylie Jenner, according to a report.
The 27-year-old rappper has been desperate to re-start his on/off relationship with the 'Keeping Up with the Kardashians' star, but Tyga has now come to the conclusion that their romance is over for good as Kylie has recently fallen in love with Travis Scott.
A source said: "Now it seems there really is something between them and Tyga's finally accepting it."
Until recently, Tyga was convinced he could reconnect with Kylie, but all of his attempts to reignite their romance have failed.
A source told HollywoodLife.com: "All his attempts to make Kylie jealous have fallen flat and she's not bitten at all.
"Tyga's pretty much kicking himself for messing up and for not keeping Kylie, she's definitely going to be the 'one that got away' for him."
Kylie and Travis' relationship has progressed considerably over recent weeks, and the 19-year-old star is said to have made a good impression with his family after she was introduced earlier this month.
A source previously said: "Travis' family loved Kylie, they think she's a total sweetheart.
"They love that she is so successful in her own right, it makes them confident that she's with Travis for all the right reasons, and that she's not using him for fame or fortune."
Meanwhile, Kylie recently admitted she feels "constantly pressured" to keep up her image.
Kylie said that maintaining her on-screen persona has become a struggle that she believes she "can't keep up forever".
She shared: "There's two sides of me. There's an image that I feel constantly pressured to keep up with, and who I really am around my friends. This show is a gift for my fans.
"Nobody has a perfect life. But I'm not totally innocent because I am keeping up this lifestyle. I can't do it forever. This isn't 'Keeping Up With the Kardashians'. This is like a therapy session."
Follow Emirates 24|7 on Google News.