UAE band The Boxtones, will open Sir Elton John gig on January 20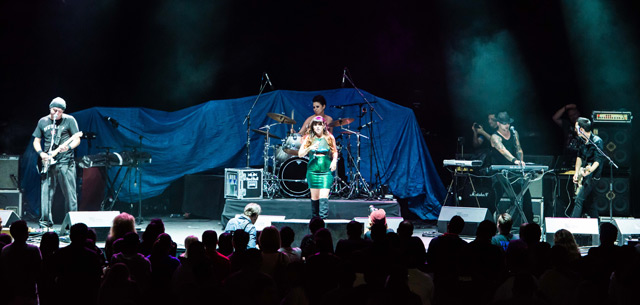 On January 20th, UAE-based rock-pop band The Boxtones will open for British music legend Sir Elton John at the Autism Rocks Arena, Dubai Outlet Mall, as part of his Wonderful Crazy Night world tour.
Red Bull Opening Acts is a curated selection of some of the best up-and-coming talent in the region.
Those selected get to perform on the same bill as some of the many iconic international artists who visit the UAE every year. Past Red Bull Opening Acts have included Beirut blues-rockers The Wanton Bishops, UAE-based metal act Anuryzm, UAE indie-folk outfit Vandalye, and Dubai-based electronic duo Arcade 82, all of whom have performed for tens of thousands of people at du Arena in Abu Dhabi.
Sir Elton John's performance – part of his 'Wonderful Crazy Night' tour – marks the start of a new partnership between Red Bull and 117Live, with The Boxtones performing as the first Red Bull Opening Act in Dubai as part of their newly formed partnership.
117Live is the events subsidiary of Al Ahli Holding Group, and is revolutionising live entertainment in the region with its own purpose-built venue – the Autism Rocks Arena – which opened in March with a performance from pop princess Nicki Minaj.
Sir Elton John opens 2017 at the arena, ahead of 2017 performances from Bryan Adams, Guns N' Roses and and the recently announced Justin Bieber show
Boxtones keyboardist Will Janssen says that when he received the call from Red Bull "my childhood dreams came true".
Janssen has been playing Elton John songs since he started playing the piano "as a young lad", and says all of The Boxtones are "really excited about this gig, but I think I am the most excited".
Perhaps not as excited as his mother back in Canada, who's been asking if Janssen will be performing a duet with Sir Elton.
"I'll just be happy to play on the same stage, and hopefully we'll get to meet the man himself," he says.
With over 300 million records sold, Sir Elton John is one of the most successful and influential artists in the history of pop music.
He's won five Grammy awards, an Oscar, a Tony, a Golden Globe, and numerous others. He's played close to 4,000 concerts in over 80 countries over the span of five decades.
But his career started in a very similar way to The Boxtones – performing cover songs in bars (Elton was a weekend pianist at the Northwood Hills Hotel as a teenager).
The Boxtones are known as the UAE's hardest-working band, regularly playing over 200 shows a year.
The vast majority of those are corporate cover gigs, but over the past few years, they've also started to make a name for themselves as an original pop-rock band.
Their debut album, 2013's In The Pockets of Clowns, was successful enough to land them a deal with Universal Music, and this month they released the follow-up, Home.
The five-piece band – Janssen, guitarist and vocalist Gary Tierney and his sister, drummer Gill, vocalist Louise Peel, and bassist Patrick Thibault – are renowned for their high-octane live shows.
They've performed at several major festivals in the UAE, including Beats on the Beach and Party in the Park, but their support slot for Elton John promises to be their most significant performance to date, coming so soon after the release of their major label debut LP.
Home sees the band's sound evolve from the bombastic rock of their debut, to a more considered – and more commercial – sound. Which isn't to say they've lost any of the energy that has won over crowds around the Middle East over the past few years.
One thing is guaranteed at any Boxtones performance – they'll give it their all.
So those heading down to 117Live's Autism Rocks Arena on January 20th should make sure to get there in plenty of time to see one of the UAE's most accomplished live acts perform before a true music legend.
Follow Emirates 24|7 on Google News.