Vanessa Hudgens lost contact with Zac Efron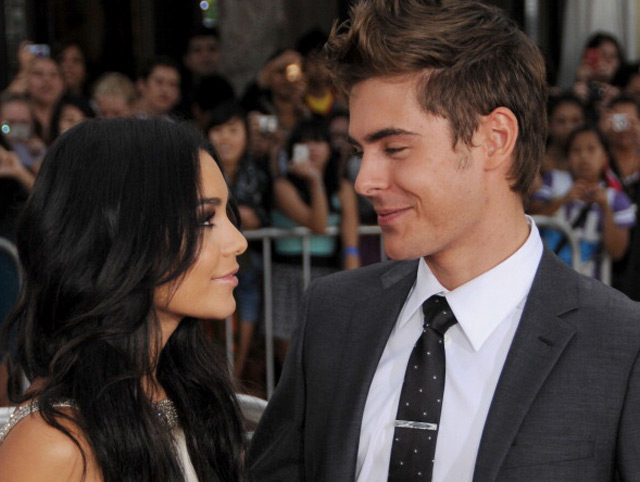 Former couple and 'High School Musical' co-stars Vanessa Hudgens and Zac Efron are no longer in contact with one another.
The 28-year-old actress dated her 'High School Musical' co-star for five years until 2010 after meeting on the set of the Disney franchise, and though she didn't suggest there's any bad feeling between them, she admitted they don't speak any more.
Asked on 'Access Hollywood Live' "Do you keep up - are you singing at the country club?", she said: "No, that's not a thing that happens. I completely lost contact with him."
Meanwhile, Vanessa - who has been in a relationship with Austin Butler, 35, since 2011 - has laughed off suggestions she could make a cameo appearance in Disney's proposed 'High School Musical 4' because she is too old to play a student and "refuses" to be a teacher.
She told E! News: "I mean, I'm 28. I could be a teacher, but I refuse to be a teacher! I'm still a teenager at heart. So probably not with me, but I'm excited to see what they whip together."
But the actress will always treasure her stint with the musical series.
Asked her advice for the new cast, she said: "Just have fun. We were just kids running around having fun."
And the 'Powerless' star is amazed the original films are still very popular.
She said: "It's insane to me that kids are still watching 'High School Musical'. I mean it's amazing. It think it just shows the power of a musical. They're timeless."
Vanessa's boyfriend is currently filming 'The Shannara Chronicles' in New Zealand and she says "communication" is vital for making their romance work.
She told People: "Just communication, communication is key.
"I think that if anything's bothering you, don't hold it in. Always bring it up and just talk about it. Uncensor yourself and just be open."
Follow Emirates 24|7 on Google News.