Veena Malik's sudden Dubai marriage reveals dirty secrets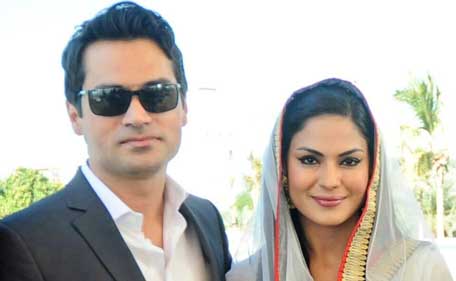 Newly married Pakistani actress Veena Malik has are hands full - not taking charge of her household but clearing controveries that surrounds her sudden marriage.
Before she could enjoy a blissful married life Malik's alleged ex-boyfriend/manager Prashant Pratap Singh has accused her of fraud, betrayal.
Veena retorted back calling him ex-employee who is maligning her reputation and also doubting his sexual orientation.
This fired up the jilted lover and Singh has claimed that Veena was pregnant with his child.
Learning of Veena's sudden marriage, Prashant revealed that Veena was carrying his child in 2012. They discovered about the pregnancy on May 10.
According to Prashant, Veena was very keen on having the baby but they were not ready for it. After attending the opening shoot of her Kannada film 'Dirty Picture: Silk Sakkath Maga', they decided to terminate the pregnancy.

Prashant further elaborated that he knows intimate details about Veena which her current husband Asad can confirm.
He also caught Veena cheating on him at least three times.
Earlier, Prashant Singh had filed a complaint against the model after he got the news of her marriage through media.

He has registered case of fraud against her.

As per Prashant the actress cheated him by staying in a live-in relationship for two long years and suddenly getting married to a Dubai-based business man without even informing him.
According to him, Veena committed fraud and took away money they both earned through the entertainment company.
Veena Malik hurriedly got married to compatriot singer/model and businessman Assad Bashir Khattak in Dubai.

Due to her mother's poor health, Veena's nikkah was rushed and soon after the newlyweds threw a 'private' reception.
Veena laughed off the allegations laid against her.

In an interview to Geo News she says; "Prashant is an ex-employee of mine, he used to work for me... many such rumours will surface now, people will talk (about my past), but by God's grace we both are happy."
"At the moment I am extremely happy with my in-laws, my husband is my life, my partner. I don't want to talk about any rumours."

Standing beside her, husband Assad Bashir Khattak has pledged to support her and ignore her past.

Veena scoffed at the threat claims and the complaint filed against her.
Well, all we can say is 'controversy' has been Veena's pet name and it suits her best.
Follow Emirates 24|7 on Google News.