Victoria Beckham and David 'together for love' - not business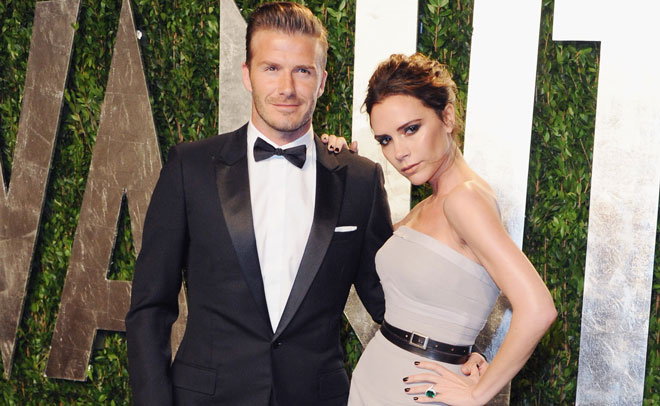 Former England football captain David Beckham has rejected suggestions he and wife Victoria stay together for commercial reasons - the Beckham "brand" - saying they simply love each other.
The A-list celebrity, who helped Manchester United achieve an unprecedented treble of winning the Premier League, FA Cup and Uefa Champions League in the 1998- 1999 season, said his family was a "strong unit".
Pic: Instagram
"People have talked about 'Do we stay together because it's a brand?' Of course not," the 41-year-old told interviewer Kirsty Young on BBC radio's Desert Island Discs on Sunday. "We stay together because we love each other. We stay together because we have four amazing children."
He married Victoria Adams, "Posh Spice" in the globally successful Spice Girls pop group, in 1999, creating a high-profile celebrity partnership.
The footballer said the early stages of their relationship were conducted in his new BMW in the far-from-posh setting of a carpark at a Harvester, a popular chain of pubs in Britain. "We used to kiss, of course, and just spend time together," he said.
He was the guest for the 75th anniversary of Desert Island Discs, a show that asks a "castaway" to pick eight recordings to keep them company on an imaginary uninhabited island.
He failed to pick any Spice Girls' hits though.
He said his first two song choices, Every Time We Say Goodbye by Ella Fitzgerald, and What A Fool Believes by Michael McDonald & the Doobie Brothers, reminded him of his grandfather and father.
He said his dad would analyse every football game he played from the age of seven.
"I knew that my dad would be proud of my achievements, but the only time my dad turned around to me and said, 'You know what son, you've done really well', was when I got my 100th cap for England," he said.
The footballer, who played for Real Madrid, LA Galaxy and Paris Saint-Germain before retiring in 2013, said he would take his England caps - awarded for appearances - as the one luxury granted to each castaway.
His tracks also included The Girl Is Mine by Michael Jackson and Paul McCartney, dedicated to his daughter Harper, his youngest child.
There have been more than 3,000 episodes of Desert Island Discs recorded since it was first broadcast on Jan 29, 1942, and the castaways have ranged from prime ministers and actors to sportspeople and scientists.
Follow Emirates 24|7 on Google News.