Victoria Beckham 'so proud' of Brooklyn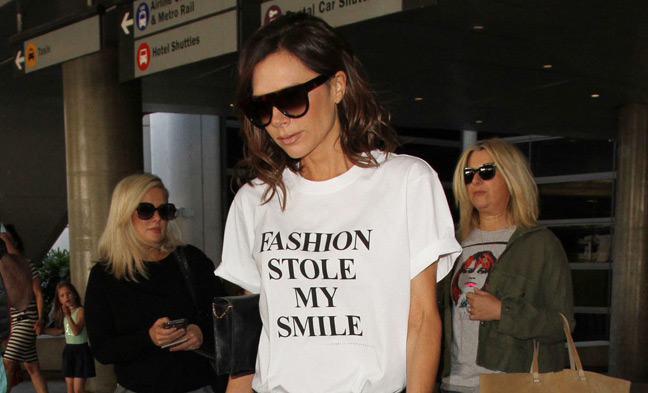 Victoria Beckham is "so proud" her son Brooklyn, who is heading to college in New York to study photography.
The 41-year-old fashion designer and husband David Beckham's oldest child is due to begin studying photography at the Parsons School of Design in New York City in September and the former Spice Girls singer is thrilled he is following his dreams.
She said: "Me and Brooklyn are very, very close, we're a very close family, and I'm just so proud of him and everything he's achieving, he wants to be a photographer, he's so passionate about what he does, he's got a great eye, he's very focused and passionate, and I'm just really proud."
But Victoria - who also has sons Romeo, 14, and Cruz, 12, and daughter Harper, five, with her spouse - joked she will be very "annoying" when the 18 year old stars his course.
She added on 'The Late, Late Show': "My baby's going away, going to college, and I'm just gonna annoy him."
Victoria was recently pictured wearing a t-shirt baring the slogan 'Fashion stole my smile' and she admitted she designed the garment herself to poke fun at her stony-faced image.
She explained: "I did make this t-shirt, this is me just sort of poking fun at myself, the question I get asked all the time, people think I'm so, you know, damn miserable, so this is me just laughing at myself.
"And also people daren't come up to me because they just think I'm gonna be [some sort of ice queen]."
Elsewhere on the show, the brunette beauty recalled how Justin Timberlake led his N*Sync bandmates in spontaneously performing for Victoria and the rest of the Spice Girls at the height of their fame.
She said: "When we were in the Spice Girls, we were in Germany doing a road show and we were sitting there in an airport, five girls all together, and then some guy comes up and he say's 'Hey I'm in a band I've got my friends, can we come and sing for you?'
"So we're all sitting there, glasses on in the airport like you do, saying 'Yeah you can come and sing to us'.
"They stood there and they could sing, and it was N*Sync, and that was Justin Timberlake, and we were like, 'Yeah you can sing', and they shut us up because they could sing."
Follow Emirates 24|7 on Google News.