Video: Salman Khan angry at uncontrolled fans chasing him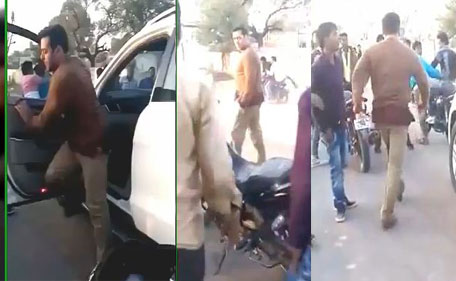 By now the most famous Khan of Bollywood, Salman Khan, should have been used to his fanatic fans and their antics.
He is often pushed, shoved, chased and shouted at by crazy fans who die to get one glimpse of the star.
Stars often comply with this senseless adulation. However, this time the 'Ek Tha Tiger' actor was not willing to tolerate few boys going overboard and face possible harm.
Salman Khan is currently shooting for his upcoming Bollywood film, 'Bajrangi Bhaijaan' in Rajasthan.
While he was returning from his shoot, a group of boys chased his car and kept following him on their bikes for a long way.
They were riding recklessly and eventually blocked the actor's way.
An angry Salman asked his driver to stop the car. He jumped out of his car, and straight away went ahead and charged the group of bikers.
He then urged his fans to stay away from his car and security as the mob could have led to some road accident.
His bodyguards eventually took care of the situation and guarded him back to the car. Angry Salman finally drove off.
It was evident that Salman was not only worried about his safety but concerned about the bikers driving recklessly.
A couple of weeks ago, police had to resort to a mild lathi charge to disperse the crowd on the sets of the same movie in Rajasthan.
Follow Emirates 24|7 on Google News.