Virat Kohli gets angry, abusive for lady-love Anushka Sharma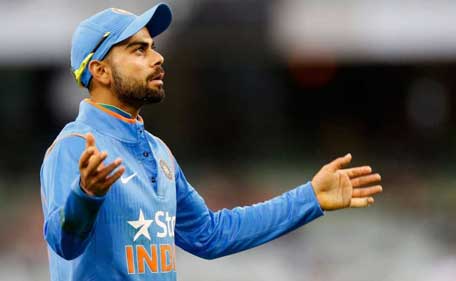 He is the lynchpin of Indian batting side, he is the test match captain and the future captain of India's cricket ODI side - but Virat Kohli is also an angry young man, very angry young man.
Cricket fans all over the world often see this class batsman get angry on field, snarl and gripe and have a thirst for a fight. All that is fun on field but not off.
This time his abuses and expletives were misplaced and ill-timed.
Also Read: Kohli's abuse to defend Anushka
On Tuesday after India's training session in Perth, Virat Kohli suddenly lost his cool as he hurled abuses at an Indian journalist.
Sanskriti Media and Entertainment
Kohli started using the filthiest of language at the scribe of a daily, whom he saw while returning to the dressing room after a training session.
The batsman's choicest of words caught the reporter and others by surprise.
His rant went on for some time before he stormed off, and some of the Indian team members looked amazed as to what exactly had happened.
The visibly shaken journalist wondered why Kohli had pounced on him without any possible provocation.
Sanskriti Media and Entertainment
And guess what - it was a case of mistaken identity.
Kohli had actually planned to target a reporter from another Indian newspaper apparently for writing about him and his grilfriend Anushka Sharma.
Realising his mistake, Kohli offered his apologies not directly, but through another reporter.
In response, the abused reporter told the intermediary to inform Kohli that such behaviour was not expected from an international sportsman even if it was not directed at him.
Kohli is well aware he is star performer and of his celebrity status and players of his stature should know how to conduct themselves in public.
His romance with Indian actress Anushka Sharma is the talk of the town but that shouldn't have come as a surprise to him.
Agreed, media is writing about his personal life, but when two famous individuals start dating one cannot hope media will not write or fans will not want to read about them.
Kohli's relationship with Anushka has been the subject of numerous articles in the media and this episode did nothing to stop such articles.
Kohli has an important World Cup Pool B match against the West Indies at the WACA ground on Friday.
Shouldn't the batsman focus on his game rather than getting worked up about who is writing what on his love-life?
Keep calm and play Virat Kohli.
Virat Kohli had once tweeted, "I live my obsession on the pitch...."
Clearly, his action speaks otherwise.
The team management declined to comment but sources said the temperamental Kohli, next in line for the India captaincy after Mahendra Singh Dhoni, had been spoken to and told to ensure such incidents were not repeated.
The bust-up has added to an already fragile relationship between the travelling journalists and the team, which has avoided all media contact outside the mandatory press conferences before and after a match.
With inputs from AFP
Follow Emirates 24|7 on Google News.