Virat Kohli gets defensive about Anushka Sharma's 'lip-job'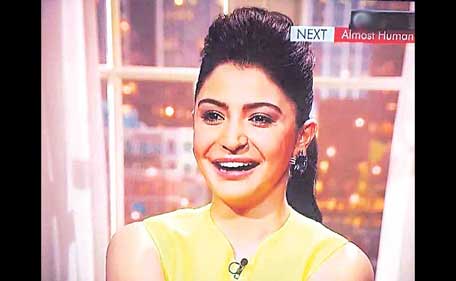 Bollywood actress Anushka Sharma's look on chat show 'Koffee with Karan' earned her the moniker of 'joker lips'.
Twitter was flooded with jokes and few wondered if she has been accidently hit by the bat of alleged boyfriend, cricketer Virat Kohli.
Now the fiery Indian batsman had enough of the jibes and is fuming about the alleged 'lip-job'.
According to a report in DNA, the cricketer has not taken kindly to all the flak his alleged girlfriend has got due to her changed appearance.
The cricketer feels that even she has gone through any transformation it is her private matter and should not be speculated on public platforms.
The speculation about a possible cosmetic surgery began after Anushka's appearance on Karan Johar's show.
The newspaper quoted a source saying Virat is also unhappy about the fact that his relationship with her was discussed on the chat show.
Anushka tried her best to skirt away the issue and said she and Virat are just 'good friends'.
The flamboyant cricketer likes to keep all his affairs private and wants to guard his close friendship with Anushka.
After all the speculations about the 'lip-job', Anushka clarified that she used temporary lip enhancing tool.
The actor has cleared the air with a really long tweet in which she says, "For a short while now I have been using a temporary lip enhancing tool and that along with make-up techniques ( I have learnt over the years) is the reason why there might be a change in the appearance of my lips. Having stated this fact let me very vehemently assure everyone that I have by no means gone 'under the knife ' or done any kind of 'plastic surgery' or undergone any intrusive procedure."
She goes on to say that lip enhancing has been part of her 'look' for Anurag Kashyap's Bombay Velvet where she plays a jazz singer in the '60s-'70s.
"Everyone goes through good and bad days. Did I think I looked good on the KWK episode? NO. I do feel I could have done things differently," she adds.
She has also received support from actress Alia Bhatt, Sonam Kapoor and filmmaker Karan Johar on her gutsy step to take on the criticism head on.
But none of these supports and clarification stopped Tweeples from having a big laugh.
Follow Emirates 24|7 on Google News.