Vogue Williams 'banned' from Pippa Middleton's wedding?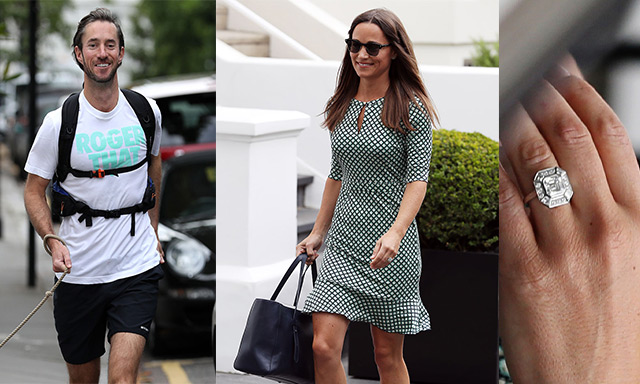 Pippa Middleton reportedly doesn't want Vogue Williams at her wedding - even though she's dating her soon-to-be husband's brother.
The 31-year-old model-and-DJ may be romancing Spencer Matthews but the brunette beauty has asked that she doesn't attend her nuptials as his plus one when she ties the knot with his brother James Matthews in a lavish ceremony next month.
A source told The Sun newspaper: "Pippa's view is that it wouldn't be appropriate for her to be there after a few months of dating.
"But some are shocked because her future brother-in-law will end up attending on his own. It's clear Pippa doesn't want to be outshone by any TV babes."
Pippa - who is the younger sister of the royal family's Duchess Catherine - has reportedly told her former racing driver partner that guests can only bring someone to accompany them to the wedding if they're engaged or married.
However, that rule means that Prince Harry - the brother-in-law of Catherine - probably won't be allowed to bring his girlfriend Meghan Markle unless Pippa agrees to make an exception to the guidelines laid out by the soon-to-be newly weds.
Spencer and Vogue met while they were competing on the winter sports show 'The Jump' in January and, although they consistently denied they were dating while taking part in the series, they confirmed their romance during a romantic trip to Disneyland Paris late last month when they shared a photo of them kissing online.
Meanwhile, Pippa's wedding is no doubt set to be extravagant as it was recently claimed that there will be "no expense spared" when it comes to the wedding.
A source said previously: "It will be blingtastic. The best champagne, Krug or Bollinger, and a specially devised champagne cocktail.
"Pippa and James have a penchant for Blanc de Noir Tillington 2009 from Nyetimber at £75 a bottle - and wonderful food. No expense will be spared. This isn't a bangers-and-mash, sitting-on-hay-bales affair. Pippa is hardly a floaty bohemian type."
Follow Emirates 24|7 on Google News.