WAGS add sparkle to World Cup showpiece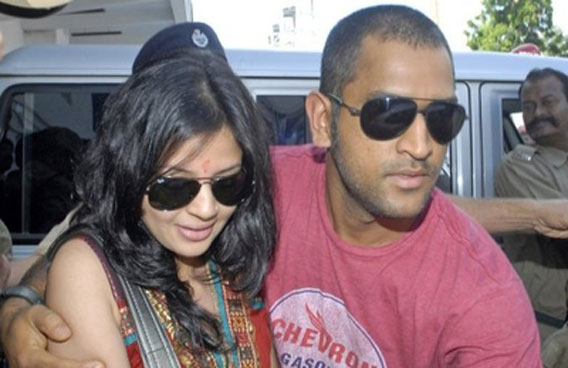 Action in the World Cup will not be limited to the field with the wives and girlfriends of players all set to add sparkle to the showpiece event.
Cricket WAGS may not have as high a profile as their glitzier football counterparts, but the game boasts its fair share of beauty.
Kacey Barnfield, girlfriend of England pace ace Stuart Broad, is a star in her own right.
Besides featuring in the hit TV sitcom Inbetweeners, the brunette is set to feature in the upcoming horror flick Lake Placid 3. She will also be seen in the latest instalment of sci-fi movie franchise Resident Evil.
Barnfield is sure to be one of the top contenders for the ICC, or the International Cricket Cutie, trophy this time around.
The award was bagged by South African skipper Graeme Smith's then girlfriend - supermodel Minki van der Westhuizen - in a poll by Stick Cricket website during the last World Cup in 2007.
In cricket-mad India, Sakshi, wife of captain Mahendra Singh Dhoni, has been basking in stardom ever since their lavish wedding at a hill-side resort last year.
The demure hotel management student has also cooked for the entire team during her stay in Sri Lanka and doled out blankets to the poor as thanksgiving after a century by Dhoni.
Liberty X singer Jessica Taylor cheers star hubby Kevin Pietersen.
Taylor has put her singing career on hold to be able to accompany Pietersen on tours and look after their son Dylan who was born in May last year.
Pietersen was lonely after England coach Andy Flower forced a ban on WAGS till the first two Ashes Tests in Australia late last year.
"Will I be counting down the days? Definitely," said the flamboyant South African-born batsman.
"In the last couple of days Dylan has just started to try to sit up. Those are the kind of things you miss, like when he starts crawling, and that's never nice."
Captain Andrew Strauss was more diplomatic when asked about Flower's diktat.
"We, as a group, are not anti-family at all," he said. "They provide some normality in what is a very abnormal situation.
"I would never argue that the families are a distraction but, leaving no stone unturned, if one player is kept up the night before the first Test by a jet-lagged kid, that is not giving ourselves the best chance."
The presence of wives on tours has always been a hotly-debated topic.
High stakes and increasing competitiveness have made it imperative for cricketers to give utmost attention to the team - and families can be a distraction.
But forced separation on account of cricket being played almost round the year now has also led to break-ups.
Australian fast bowler Brett Lee had his share of controversy over his break-up with the stunning Liz Kemp.
Kemp spoke of how she had endured months of loneliness as Lee took on more and more overseas sponsorship deals on top of his international career.
South Africa will allow wives and girlfriends to join the team midway through the marathon tournament.
Coach Corrie van Zyl said: "We have a window period during the tournament for the players to see their partners, and Cricket SA has been very understanding that it's nice to have the support of the country, but also of our loved ones."
Follow Emirates 24|7 on Google News.