We are family: Ranbir Kapoor, Katrina Kaif & Neetu Singh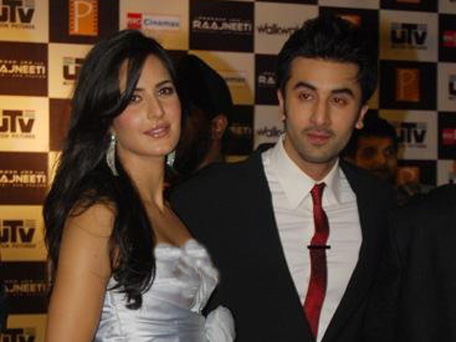 Bollywood actor Ranbir Kapoor seems to be one actor who has his hands full with big projects. Of course we are talking about movie projects and not his lady project.
Now that we have mentioned the lady project it's worth mentioning that Ranbir might have finally zeroed in on one lucky lady and the lady in question is none other than Katrina Kaif.
They have been denying point blank about all rumous relating their link ups but we hope 2013 will see this couple open up about their relationship status.
Considering the spate of reports doing the rounds recently in India, it is rather tempting to put two and two together. And the two in this case is of course Ranbir Kapoor and Katrina Kaif.
The news of their puppy love is not new; it has been doing the round since 2009 when the two worked together in 'Ajab Prem Ki Ghazab Kahani'. But the frequency of the over-flowing love lore has doubled in 2013. And we are just in week two!
Recently Ranbir waited for Katrina while the lady was recording for an award show till wee hours. Ranbir, lingering around for no reason, was there giving her company from 3am to 8am.
He stayed till she finished her work and the two left the venue together after wrap up.
Then there were eyewitnesses who spotted the two ringing in the Year New together in New York. The duo tried their best to mingle with the crowd but when you are Ranbir and Katrina it gets difficult not to be noticed.
Now news comes that Katrina Kaif helped Ranbir's mother Neetu Kapoor overcome her stage fear before a performance at an award show.
It was Neetu Kapoor's first-ever stage performance after a gap of many years and according to sources, the senior actress was extremely nervous about her dance steps. And it was Katrina Kaif who came to her rescue.
Ah that's what family is all about - watching each other's back.
So is Ranbir Kapoor finally ready to display his commitment for Katrina?
We hope it won't be long before Ranbir and Katrina make their relationship status public.
MUST READ:
Did Shah Rukh Khan's nasty temper cost him his security men?
Kim Kardashian, Tom Cruise, Ashton Kutcher, all in the same boat
Delhi gang-rape impact: Kareena Kapoor leads Bollywood no to 'item' numbers
Follow Emirates 24|7 on Google News.