Wedding on the cards: Aditya Chopra, Rani living together?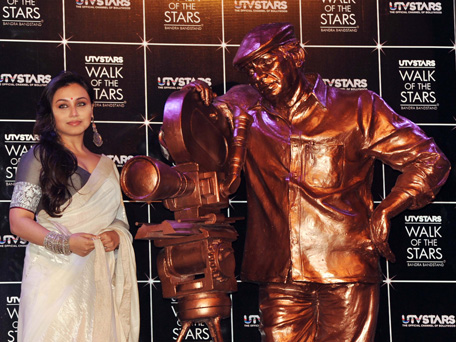 There have been innumerable stories about the Rani-Aditya Chopra affair and multiple dates of the wedding announced.
But what is surprising to the neighbours at the exclusive locale of the Theosophical Colony, bang opposite the old Yash Raj Films office have been seeing a certain Mr Aditya Chopra on a daily basis and round the clock.
More enquiries revealed that they twain have perhaps been living together with the head of the Yash Raj Studio having shifted homes. Rani's rest of the family – her mother, father and brother and his family have moved to other flats owned by the family.
Rani has an old familial house in the Janki Kutir complex housing the Prithvi Theatre and the parents Ram and Krishna are living there now.
As for her brother Raja, his wife Jyoti and the rest of the family are now living at her other house at Kalyan Complex in the Yari Road area.
Various people from the film industry are aware about the relationship and some of them have inadvertently spoken about it at official events as well.
The two have been photographed by the paparazzi at restaurants, as well as when they have returned from foreign sojourns.
It was around a few months ago in 2013 when he returned from London with Rani and he was captured by the paparazzi.
Aditya was also seen during Diwali at the residence of the Mukerjis.
Industry is abuzz with talks that Rani has decided on a grand wedding in Jodhpur, a Royal touch will be added with the venue being Umaid Bhavan Palace.
Apparently, the actress was in awe of the venue and was impressed with the look of it.
While the date for the D-Day is being touted as February 10, when the Bollywood beauty and the Chopra scion will exchange vows at this destination wedding.
One is expecting an official announcement about the relationship within a month, is what we have been told.
And Aditya's continuous presence at Rani's is being viewed as a precursor to the official announcement and the wedding that ensues.
One is now waiting for Rani to be officially anointed Queen!
Follow Emirates 24|7 on Google News.