What happened to Kim Kardashian's face? Crazy knife job or Botox?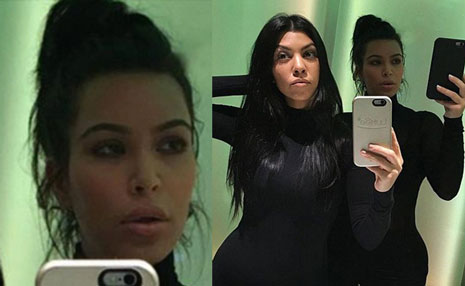 Reality TV star Kim Kardashian and mum-of-two, who gave birth to son Saint West late last year, stayed out of view for weeks since giving birth to son.
She posted throwback images, updated fans of her daily routine but not one recent picture from the selfie queen.
File Image: Before pregnancy
As she emerges post baby Kim K's fans are in an uproar because they think Kim's face looks a little different.
Her return to the spotlight in an unexpectedly low key fashion with an appearance on sister Kourtney's social media feed on Sunday is unusual.
Twitter/KourtneyKardashian
The image sparked a huge response - but it wasn't her svelte post-baby body that they were surprised by.
Instead fans speculated about the reality star's face, with many suggesting that she had used her time out of the spotlight to have some work done.
"Post Botox Kimmyyyy?????" wrote one on Instagram, while many speculated that fillers or Botox had changed the mother-of-two's appearance.
Twitter/KourtneyKardashian
"What's up with Kim's face?" wrote one commentator, while others remarked that she looked almost unrecognisable.
"Has Kim had a nose job?" one commenter speculated. "Kim 100% got a nose job," another agreed. "Jesus! Kim gone overboard on the fillers?? Why is it kardashians think their faces should move????," someone else wrote.
"What happened to kim?" The list goes on!
Twitter/KourtneyKardashian
Kim's fans were baffled by the picture and interestingly, some said that she looked just like Joyce Bonelli, the Kardashians' makeup artist. She really does.
Mum-of-two Kim, previously hit back at speculation she had had work done while pregnant.
Twitter/KimKardashian
She wrote on Instagram: "No I don't do fillers or Botox when pregnant like some tabloids are reporting, you would have to be really sick to endanger your child like that!
"Anyone who has been pregnant or gained weight knows your face totally changes! My nose gets bigger, cheeks fuller & my lips swell up."
But then if she did get any work done - it's her choice. Her body, her decision.
Follow Emirates 24|7 on Google News.