What is Aishwarya Rai Bachchan covering up?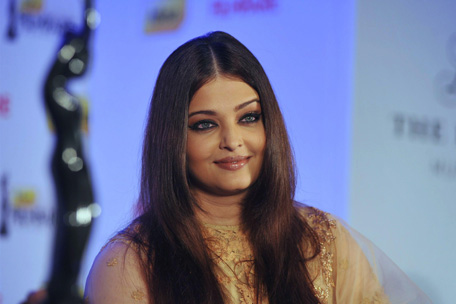 Despite proclaiming to the world that her post-pregnancy weight gain doesn't upset her, we find the world's most beautiful woman, on more occasions than not, using various strategies to look slim.

From wearing black, fully-covered clothing to chopping her hair to hide her chubby cheeks, Ash seems to find an easy way to tone up.

And this, in spite of claiming that her "big" size doesn't upset her. In response to all the media badgering about her bloating image, she claimed, "I am a mother. This can happen and it has happened with me and it's fine (weight gain). I've never been the one who endorse size zero anyway."

She even braved the Cannes red carpet and paraded her "chubby" face, dressed in fully-covered designer finery.

Ever since she has been the self-appointed mascot for mothers, who struggle to shed their post-pregnancy weight, claiming her new look helped other mothers turn confident of their new bodies.

There were even theories of how she was being "real" and didn't want to focus on the Western concept of shedding weight super-fast, because she focused on her mommy duties instead of the weighing scale.

It has been over a year since she and her actor-husband have been blessed with baby Aaradhya, but the world is still pretty obsessed with the bulging weight.

More so, because Ash, herself, hasn't been able to accept her new body.

Why else would she allow the makers of her print ad for a South Indian jewellery brand to erase a few kilos off her using photoshop?

Talking to Emirates247, during the promotions of 'Heroine', Kareena Kapoor had openly acknowledged how every glam photograph is photoshopped.

"Every picture for every film, every ad, every newsprint, does get Photoshopped. It is a business, photoshop. Everyone is doing it today. In fact, 'Heroine's posters have not been Photoshopped as much as other movie posters. This is the figure that you will see in the song," she had admitted.

Apart from the photoshopped images, Ash is doing her bit to appear toned. A new layered haircut, that falls perfectly on her face and covers up the "chubbiness", is just her way of slimming down.

And this, while her peers, Shilpa Shetty and Lara Dutta are back to flaunting their pre-pregnancy bodies.

"She's in the glamour industry, and she knows the importance of staying in shape. So, if she's taking baby steps to achieve it, then so be it," concluded an adman in Mumbai.

With younger actresses taking over Bollywood, Ash is impatient with her long break, and is apparently doing yoga to shed some weight.

"There's no doubting that she wants to start working. She's a performer and there's nothing that will stop her," opined a Mumbai-based entertainment reporter.

Although it is evident that Ash has lost a dress-size or two, she is still far from her old self.

An Indian daily claimed that the actress was shaping up so that she can win a movie part. Her supporters, however, disagree, insisting that she has enough clout to bag a plum movie project without ever hitting the gym or losing weight.

Whatever the real reasons, it does appear that Ash has got it all sorted.
Follow Emirates 24|7 on Google News.