What to do in Dubai this weekend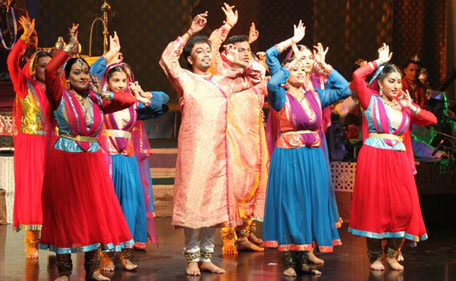 With the mercury hitting an uncomfortable 48 degrees Celsius over the last few days, the good doctor has advised everyone to stay indoors and enjoy all that the city has to offer in this blistering heat.

Children will be delighted that their favourite purple dinosaur Barney has flown into town with his new space adventure, while Roald Dahl classic, "George's Marvellous Medicine" will delight the young ones and the older generations, alike.

So sit back and pull out those diaries as Emirates 24|7 plans your weekend.
Studio One celebrations with Jashn-e-Awadh
June 2

Studio One, the daily show filmed live on Dubai One, is celebrating its 100th episode on Thursday at Dubai Festival Centre, DFC. And not only do viewers have an opportunity to participate in competitions and raffles for mega prizes, but also catch a scintillating performance by local choir group, Malhaar, and their stunning musical, "Jashn-e-Awadh" at 7.30pm.
The recital will be a snippet of their tribute to Nawab Wajid Ali Shah, the tenth and last ruler of the kingdom of Awadh (present day Indian state of Uttar Pradesh), who single-handedly revived India's most revered dance form, kathak, which was in danger of depletion in the hands of then British-ruled India at the time.
His political affiliations may have doomed his reign, yet Shah's love for the patron arts, which also included the revival of Indian theatre and the birth of a golden period during the country's struggle for independence, would be passed on for generations to come. Here's your chance to relive the experience. Free entry.

Dubai International Dance Festival around town
June 2-4


This mesmerising celebration of dance returns to Dubai where the city's finest dance schools put their best foot forward and wow crowds with their stunning performances.

This year is just as action-packed as its predecessors, with the highlight being the premiere of the musical, "Inspector Habibi and Mr Khalas, The Dance Detectives".

The story goes that the current World Champion Dance Team is set to headline at the 2011 Dubai Int'l Dance Festival event, until the director and principal dancer is kidnapped. It is then up to the Dance Detectives to discover why.

Debonair Inspector Habibi and his charming, yet quietly intuitive assistant, Mr Khalas, unveil a suspenseful and humorous story of a missing woman taken under shadowed circumstances. Many adventures await all as they take you down the path of colourful characters, incredible costumes, and creative choreography, to discover who or what is behind this curious crime.

The performances are held on Thursday and Friday at 8.30pm, with tickets priced at Dh175 and Dh200. The show is being held at the First Group Theatre, Souk Madinat.

Aside from this, over the course of the three days, there are also several dance workshops for children and adults, along with themed parties every night at Taverna and Malecon at the Dubai Marine Beach Resort and Spa.

Organised by Familia Events Mangement Company, for the full programme, call: 050 277 7475

Sindhi Sangeet Show at Sheikh Rashid Auditorium, Dubai
June 2


Some of the most talented names from the Sindhi music industry in Pakistan are making their way to Dubai this Thursday for a cultural performance you are least likely to forget any time soon.
Of the talented acts performing, the top names include Shaman Mirali, Ghulam Hussain Umrani, Najaf Ali, Master Manzoor, Deeba Sehar, Shehla Gul, Arbesham, Waheed Hakro and Kashif Aghani.

Organised by Signature Events and being held at the Sheikh Rashid Auditorium, Indian High School, Dubai, tickets range between Dh75 and Dh150. Show kicks off at 8.30pm. Call: 04 337 3724
Barney Space Adventures at Dubai Airport Expo
June 2-4


Brace yourself Dubai as Barney, the fun loving purple dinosaur, is back with an all-new musical, titled "Barney's Space Adventures".

Organised by Eventbox and presented by the Dubai Events and Promotions Establishment, the show features Barney and his friends BJ, Baby Bop, and Cousin Riff. Happy days, we say.

This 80-minute show will see Barney and his mates head on an exciting adventure aboard a spaceship to The Perfectly Purple Planet, inhabited by friendly and colourful space people.

The king and queen of the Purple Kingdom hold a grand ball to celebrate Barney's love of all children across all galaxies. Starring a cast of 14, Barney's Space Adventures is a delightful and entertaining musical show that brings an imaginative story to life.

There will be two shows on Thursday at 3pm and 6pm, while Friday and Saturday will have three shows at 11am, 3pm, and 6pm.

Tickets are based on zones with prices ranging from Dh125, all the way to Dh500 for VVIP. Call: 055 883 0346

George's Marvellous Medicine
June 4-8


The Birmingham Stage Company returns to Dubai to perform their sell-out success of Roald Dahl's funniest story, "George's Marvellous Medicine", after completing a record-breaking 18-month tour of Britain.

This brand new adaptation by David Wood of one of Roald Dahl's best-loved stories brings back all the fizziackling fun and wizzpopping magic for the whole family.

For those who never read Dahl's amazing story, the narration is about a young boy who makes a marvellous new medicine to cure his grandmother of her terrifying temper. But when his grandmother drinks his special new potion, the most incredible things start to happen. And George's adventure begins.

The show is held at the First Group Theatre, Souk Madinat from June 4 until 8, with shows at 4pm and 7.30pm over the various days.

Tickets are priced at Dh130 and Dh150. Call: 050 880 5074

World Quizzing Championships 2011 at Jumeirah Lake Towers
June 4


It's time for the World Quizzing Championships, held in 70 venues across 30 countries simultaneously. It happens in Dubai this Saturday, from 2.30pm until 4.30pm at the Jumeirah Lake Towers.

The World Quizzing Championships event was first held in just one location in 2003 with Steven De Ceuster and Siva Krishnapillai from Belgium and Malaysia respectively flying over to England to take part.

Since then, the World Quizzing Championships has grown with more countries taking part each year.

Saturday 4 June 2011 will see contestants quizzing all over the world again. And this year the organisers are hoping to get over 2,000 people joining in to find the World's Best Quizzer.
Follow Emirates 24|7 on Google News.