When Amitabh Bachchan bowed down to crying Kareena Kapoor…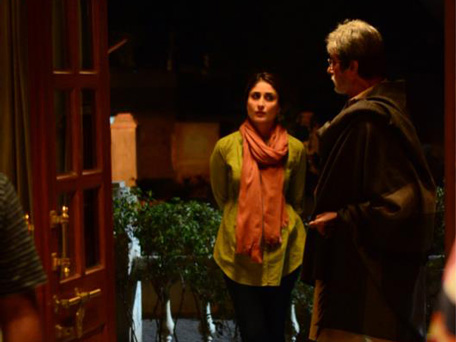 In Bollywood circles, where seniority and respect go hand in hand, it comes as a shocker that even the mighty can sometimes bow down to the tears of a young child.

Such was the moment that saw the legendary Amitabh Bachchan bow down to the feisty Kareena Kapoor, to the extent of washing her feet, when he made the much younger actress weep uncontrollably.

Before you think this was an aftermath of the much publicised and shocking break up of Bachchan's son Abhishek's engagement to Kapoor's sister Karisma, this story goes back another decade or so from the scandal.

The septuagenarian, who is currently shooting for director Prakash Jha's 'Satyagraha' in Bhopal, alongside the 32-year-old Kapoor, took to his blog to revisit those memories of the time he made the stunning diva weep.

Bachchan, who has associated with the Kapoor family since decades, narrated an incident when he was shooting alongside Bebo's (as she's fondly known in Bollywood) father, Randhir Kapoor in Goa.

He wrote: "I was narrating to her (Kareena), one such moment when we were shooting for 'Pukar' in Goa and how she looked with her cute summer hat with little pink flowers on them, and how troubled she had been when during an action sequence I was hitting her father.

"She in her innocence had run on to the set in the outdoors and clung to her father to protect him from this 'evil' man who was beating him up…."

The actor continued: "In tears and most worried, she was relentless and very disturbed. She soiled her pretty little feet in the sand and in order to settle her down I had asked for some water and washed her tiny feet clean, to make her realise that this act was not for real but an enactment.

"I think after the feet washing, her opinion seemed to have changed about me. I wasn't that 'evil' after all. She still remembers that moment."

Kapoor should have been all of three years old at the time, but it seems her feisty spirit was still very much intact even then.

Incidentally, film director Jha managed a casting coup of sorts bringing the Bachchans and the Kapoors to share screen space again after the cold war that has kept the two film families apart post the time when Karisma called off her engagement with Abhishek.

Albeit, the Kapoor lass debuted with Abhishek in the film 'Refugee' back in the day, and worked with his famous father in 2004's 'Dev', none of them have worked together since the wedding was called off.

Speaking to Emirates 24|7 in a phone chat earlier, Jha brushed off the drama surrounding the epic move of getting the two stars together again.

He said: "To me, it is not about actors, their egos or their off screen antics. The movie and its script are always paramount with me.

"When I started on 'Satyagraha', I knew then that Amitabh and Kareena would be ideal for the roles I have etched out for them. When I approached them, both immediately hopped on board.

"I think that itself says a lot about their professionalism."

Jha's political drama boasts an all-star case including Ajay Devgn, Arjun Rampal and Manoj Bajpai.

The movie is slated for a an August 22 release across UAE cinemas.
MUST READ:
Salman Khan goes 'Mental' in Dubai; catch him if you can
Will Uday Chopra, Nargis Fakhri break up because of Rani Mukerji?
Nach Baliye 5: Shilpa Shetty, Govinda to rock the dance floor
Follow Emirates 24|7 on Google News.