White blonde woman vs black rapper: Grammys feel Oscar fever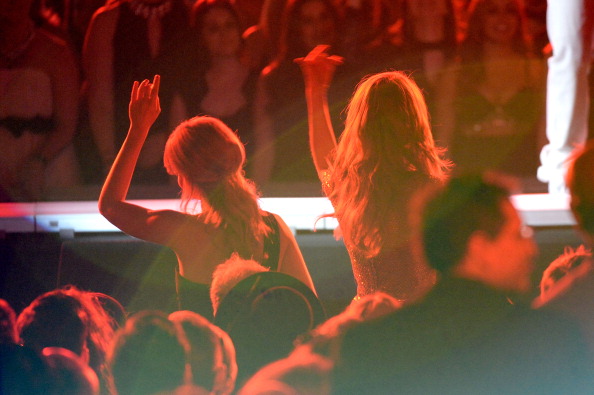 The Grammys are never going to get it right. How could they?
The vagaries of taste are too nebulous, the sheer amount of music being released is far too vast. One thing that the Grammys can be, however - and one that organisers at the Recording Academy have striven for - is an accurate snapshot of the year in music.
And this year, it's hard to argue that the nominations don't represent a reasonable portrait of contemporary music-making. What that says about the current state of music-making, however, offers quite a bit more to unpack.
Leading the nominations is Kendrick Lamar's 'To Pimp a Butterfly', a forward-thinking, jazz-suffused hip-hop odyssey that hit No. 1 in spite of its hook-averse complexity, and whose single 'Alright' has become a staple chant at Black Lives Matter protests.
Not far behind is Taylor Swift, whose '1989' quite comfortably outsold any other album released in the Grammy eligibility period, and whose multicity tour and multimedia social presence set the extra-musical standard for pop star ubiquity.
Both are nominated in the two most prestigious categories (song and album of the year), and both have to be considered co-favorites to sweep the night.
With Lamar and Swift, the Recording Academy has a chance to honor two of its standout artists in the prime of their careers; hardly a given for the Grammys, which so frequently have played catch-up with era-defining acts the awards body never managed to grasp.
One only has to look back to 1995 - a year in which both hip-hop and alternative rock entered the heights of their respective golden ages, only for the Grammys to shower major nominations on the likes of the Three Tenors, Tony Bennett and Eric Clapton; or 2001, when a late-period Steely Dan LP beat out Radiohead, Eminem and Beck for album of the year - to appreciate how much sharper this year's haul is.
But at a time of daggers-out political discourse and ever-louder debate over ethnic representation in entertainment - particularly when that representation extends to award shows - it's hard to miss the stark differences between the two headliners:
A white, blonde woman whose music is shorn of any explicit political edge, vs. a black man whose newest music wears its jagged edges as badges of pride. In the song of the year category, Swift's cheeky lyrical skewering of her own tabloid image will face off against a Lamar song heavy on references to the Bible, police brutality and slavery reparations.
Much has been written about the increasing hesitance of white pop stars to engage politically, with the brunt of activist music-making falling increasingly to hip-hop and R&B. (D'Angelo's 'Black Messiah', which racked up three Grammy nominations including record of the year, offers indictments of current racial-political ills just as stirring as anything on Lamar's album.)
Hell, the late David Bowie identified that trend back in the 1990s. But it presents Grammy voters with an essential dilemma: What do they want to represent excellence in their industry? Do they value boundary-pushing audacity?
Or, in an era of continuing uncertainty over the future of commercial music, is Swift's well-oiled machine too big to fail?
Would ignoring '1989' in 2016 be like ignoring Michael Jackson's 'Thriller' in 1984? And would ignoring 'To Pimp a Butterfly' now be like ignoring Marvin Gaye's 'What's Going On' in 1972?
Of course, Grammy voters did ignore 'What's Going On' - Gaye didn't win his first Grammy until more than a decade later - while 'Thriller'' cleaned up with a then-record-setting eight statuettes. The last time any of the major categories saw a winner that could make even a remote claim to political relevance was 2007, with record, song and album of the year wins for the Dixie Chicks' belated response to Bush-era blacklisting, issued just as the George W. Bush administration was coming to a close.
Beyond that, outright political statements only tend to win major Grammys when cloaked in reassuring platitudes (U2's 'Walk On', Phil Collins' 'Another Day in Paradise') if not outright celebrity charity extravaganzas (USA for Africa's 'We Are the World', George Harrison and Friends' 'Concert for Bangladesh').
Real boat-rockers - from 'There's a Riot Goin' On' to 'Volunteers,' 'Sandinista!' 'It Takes a Nation of Millions' or 'Pussy Whipped' -- have always fallen outside the Academy's purview.
Aside from the aforementioned, it's easy to see far less grand statements, though no less central to the present-day state of music-making, in the other nominations. The Weeknd (seven nominations, including album and record of the year) offers a uniquely modern take on R&B, his slow-jams reading like sexts, his depressive musings Tumblr-ready, his stardom established through free mixtapes long before he released a proper album. Song nominations for Mark Ronson and Bruno Mars' 'Uptown Funk' and Wiz Khalifa and Charlie Puth's 'See You Again' testify to the Academy's appreciation for pure old-school hit-making technique. Nominated for album of the year, Chris Stapleton's 'Traveller' rides a wave of respect for the Nashville debutante's serious, introspective songwriting, which stands in clear contrast to the arena-rock bombast and callow hedonism dominating country radio.
Critics will surely be quick to point out why this year's selections are wrong. But after years of falling into seeming irrelevance, the Grammys are once again demanding to be taken seriously.
Follow Emirates 24|7 on Google News.