Whitney Houston's daughter Bobbi Kristina 'doesn't do drugs'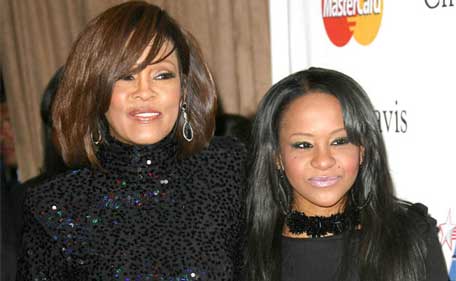 Bobbi Kristina Brown's family have claimed the star doesn't drink or do drugs so are shocked by the star being found unresponsive on Saturday (31.01.15).
The 21-year-old daughter of the late Whitney Houston was rushed to hospital on Saturday (31.01.15) after being found unresponsive in a bathtub at her home in Roswell, Georgia, and while the cause of the incident is not yet known, family members have ruled out substance abuse as a contributing factor.
Her cousin, YF Kennedy told E! News: "Krissi doesn't do drugs. She hasn't been drinking or doing drugs and she's cut down on cigarettes. She's been trying to get her music together and keep her voice clean. Her voice is so beautiful."
Bobbi Kristina Brown's father Bobby Brown has requested privacy while she continues to receive treatment at a hospital in Georgia.
In a statement issued by the singer-songwriter's lawyer, he said: "Privacy is requested in this matter. Please allow for my family to deal with this matter and give my daughter the love and support she needs at this time."
The young star is now believed to have been "placed in a medically induced coma for swelling of the brain", with Entertainment Tonight reporting she is only breathing with the help of a ventilator.
Despite the shocking incident, her cousin said she was making positive progress in getting her life back on track with her husband Nick Gordon, after her mother died under similar circumstances in a bath in Beverly Hills almost three years ago.
He continued: "She's still been going through the grieving stages but is trying to keep her spirits up. She's been going to the gym every day with her husband and trying to be happy. She swims a lot."
However, another source claimed her troubles are "a lot deeper than everyone can see," with it also emerging police were called to her home last week (23.01.15) due to a "reported fight", although no one was found at the home when police arrived.
Bobbi's father, Bobby Brown, is now believed to be at her bedside in North Fulton Hospital along with family friend Tyler Perry and other relatives.
Lisa Holland of the Roswell Police Department commented on the incident and confirmed they are still investigating how Bobbi fell ill
She said: "Obviously we all know her mom died this very same way.
Also see: Movie Listings in UAE
Follow Emirates 24|7 on Google News.