Who's Bigg Boss now? Gauhar Khan and Kushal Tandon minting it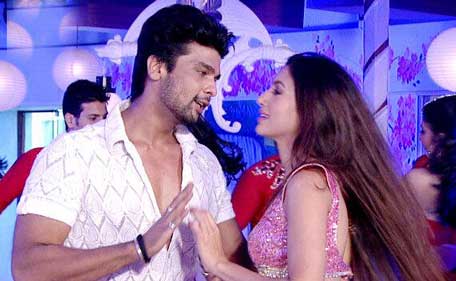 Gauhar Khan and Kushal Tandon, who stole the limelight in the reality 'Bigg Boss 7', have now become a hit couple.
Television ratings of the show went soaring thanks to the on-screen romance of the two. Their budding love also saw the return of once booted out Kushal.
And it was a dividend for the channel when the two confessed their love for each other on camera.
Gauhar went on to win the show and then offers kept falling in her lap. Radio stations, stage performances, appearances at events and more reality show makers wanted Gauhar.
Kushal of course came as a package deal. No offence, but since "Gaushal" (Moniker given by fans to the couple) are a team now, one has to tag along the other.
Gauhar Khan and Kushal Tandon practising for the Mirchi Top 20 awards.
They have been making trips to various radio stations in Mumbai and giving interviews, sharing their journey in the reality show, their young love and the unsure future.
Gauhar, of course, is more popular among Bollywood crowd and hence have been attending events and making appearances during store opening and TV shows.
She has always frequented fashion shows and now after winning 'Bigg Boss 7' her presence is a must.
The couple will be seen performing together on stage for the first time on the romantic and popular, Bollywood number 'Gandi Baat' for Mirchi Top 20 awards.
There are also reports suggesting that the two are likely to compete in the adventure reality show 'Fear Factor - Khatron Ke Khiladi 5'.
The channel is in talks with the actress, who is yet to confirm her participation.
She has been having multiple talks with the production house and is keen to take up the offer.
If the two come onboard the show, there will be more romance to witness along with some high voltage drama.
Previously the show was hosted by Bollywood actors Akshay Kumar and Priyanka Chopra, the fifth season of the action-adventure show 'Khatron Ke Khiladi' will be hosted by filmmaker Rohit Shetty.
It will see a total of 14 celebrities, a mix of boys and girls, facing their fears by taking part in challenging tasks. The show is likely to go on air March or April and will be shot in South Africa, said a source.
Follow Emirates 24|7 on Google News.