Why Aishwarya, Kajol, Bipasha may not be role models for your kids...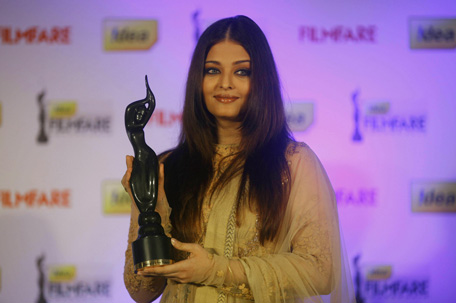 Educate to Empower were the words of the hour at a campaign held earlier this week in Mumbai to instil the importance of a stable and healthy school environment for young children in India.
Lending star power to this charitable cause were celebrity icons Sachin Tendulkar, Aishwarya Rai Bachchan and Kajol. It is albeit, an ironic twist though, that all three of these famous personalities never completed their own schooling when fame came knocking on their doors at an early age.
While cricketing legend, Tendulkar, was already a notable name on the circuit at aged 14, the story of two of India's top film actresses is one that has been repeated through generations of stars that have crossed the threshold into the glamourous world of Bollywood.
When the spotlight beckons, you simply cannot say no.
For those of you wondering, Kajol, who was home from her Panchgani boarding school at 16 was discovered by filmmaker Rahul Rawail and landed 'Bekhudi'. She never returned.
When asked once if she missed out on her education, she was quoted as saying: "I don't think I am any less well-rounded because I didn't complete school."
As for Rai Bachchan, this young beauty was studying architecture, when a lucrative career in modelling, followed by Ms India and Ms World thrust her in the world of showbiz and bid adieu to her studies aged 21.
Notorious Indian columnist and author, Shobhaa Dé, once famously summed up the fickleness of the cinematic norms by saying: "An actress' sell by date in Bollywood is 16."
While her theory would prove a little skewed off late, Mahesh Bhatt's daughter and cinema's latest debutante Alia Bhatt is the latest cadet to be recruited right out of school to strut her stuff in the bright lights.
In director-producer Karan Johar's own words: "Alia was all but 17 when she came to audition for 'Student of the Year'. It was button cute seeing this young kid dance to 'Bahara Bahara'."
When asked if it was right move for this now 19-year-old to drop out of school to face the camera and the feisty girl didn't hesitate to say: "Why would I mind? How many girls get the chance this early in their lives to pick a career with the best in the industry of her chosen field?"
Going back to school is certainly not on the agenda for the Bhatt girl, who is already signed on for her next film, which is the big screen adaptation of Chetan Bhagat's '2 States' opposite Arjun Kapoor.
Meanwhile, co-star Varun Dhawan also remains a college dropout, who incidentally left his post grad studies halfway in Manchester to fly down on the sets of Johar a few years ago to assist the director on 'My Name is Khan'.
Quiz Varun and he doesn't deny it.
"My parents wanted me to study, get a degree and then decide what I wanted to do with my life. But I always knew that someday the film industry would be my calling. When I had the chance, I wouldn't let it slip away," he said.
Other notable Indian actors are just as lacking in the educational pedigree but make up for that gap through their lucrative Bollywood careers.
It appears actress Katrina Kaif had a very nomadic childhood, which affected her education greatly.
Travelling from Hong Kong to China, Japan, Germany, Belgium, Poland, Switzerland, Hawaii and then London (phew!) the girl finally hit the modelling circuit aged 14.
Ask her about her past though and Kaif is known to get her guard up immediately.
Small-town girl Kangana Ranaut wrapped up her schooling in Dehradun and only managed college a few months before quitting it all to join the world of modelling aged 16.
Meanwhile, Kareena Kapoor dabbled in various colleges across Mumbai, never really sticking to any one for long – and even dabbled in a summer stint at Harvard University – but ultimately chose to tread the path she knew she was best at, pouting in front of the cameras.
Arch enemy Bipasha Basu was supposedly studying to be a chartered accountant, but was discovered by now Arjun Rampal's wife Mehr, who urged her to consider modelling.
By the time she was 17, Basu had already bagged the Godrej Cinthol Supermodel Contest and the Ford Models Supermodel of the World contest. The rest they say is history.
Follow Emirates 24|7 on Google News.