Why is Aishwarya Rai on peace mission?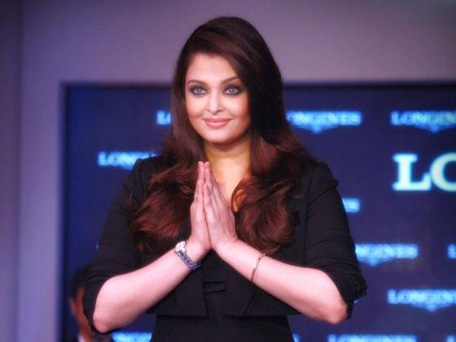 Bollywood actress Aishwarya Rai Bachchan was seen at a recent party hosted by UTV CEO/founder Ronnie Screwvala for UTV/Disney CEO Siddharth Roy Kapoor and actress Vidya Balan to celebrate their wedding.
Ronnie Screwvala and Siddharth Roy Kapoor are the two top men of UTV with whom Aishwarya and the Bachchan family locked horns.
All eyes turned to Ash when she entered the party. Media started speculating if it was a call for peace on Aishwarya's part as she is poised for a comeback after her pregnancy and delivery.
After a series of war of words, it was good to see all of them come together.
Apparently the patch up happened due to Vidya Balan who is extremely close to the Bachchan family after she did 'Paa' with them.
The fallout happened when the Bachchan daughter-in-law declared her pregnancy after starting the shoot for Madhur Bhandarkar's mega project 'Heroine'.
Ronnie and Siddarth were extremely upset with Ash as she declared her pregnancy after shooting for a few days for the film resulting in a huge loss for the producers.
Filmmaker Madhur Bhandarkar and UTV have decided to shelve 'Heroine' instead of working with pregnant Aishwarya Rai.
Madhur Bhandarkar was upset with Aishwarya Rai for having kept him in the dark about her pregnancy which led to huge losses for the film 'Heroine'.
While Bhandarkar laid the blame squarely on Aishwarya Rai, her father-in-law Amitabh Bachchan jumped to her defense and claimed that pregnancy is a personal issue for any actor.

"Everybody knew that Aishwarya was married when she signed the film. So you mean to say that actors can't get married or have children? I don't think this can be a part of any contract that you cannot get married or have children if you working in a project," Bachchan was quoted in an Indian daily.

The production house had announced that shooting of Madhur Bhandarkar's 'Heroine' has been put off indefinitely because of Ash's pregnancy who played the lead role.
'Heroine' was 10 days into the making when the news of Aishwarya's pregnancy broke out. Director Bhandarkar and producer Ronnie Screwvala were left with no option but to shelve the film.
The producers and the director faced lot of backlash when they dropped pregnant Aishwarya.
To be fair on the filmmakers it was not possible to work with a heroine who was four months pregnant.
Considering she played the protagonist who had to do two item songs, smoke on-screen, a pregnancy announcement was rather surprising for the director.
A statement from the production house said, "We have all agreed that the best step would be to avoid shooting further, rather than proceeding with an incredibly demanding schedule over the coming months."
The patch-up comes at the right time as Aishwarya would like to make as many friends possible in the industry as she looks for a blockbuster come back.
MUST READ:
BIGG BOSS 6 grand Finale: Salman Khan to dance with Emraan, Yana Gupta

How long will Katrina Kaif & Ranbir Kapoor hide their relationship?
Exclusive Bollywood shoot: Ranbir Kapoor, Shah Rukh Khan, Hrithik Roshan
Follow Emirates 24|7 on Google News.