Why is Anne Hathaway most hated star in Hollywood?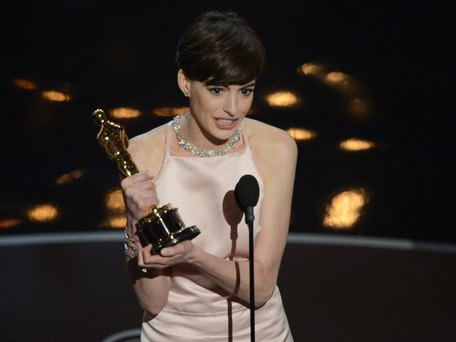 The once widely-beloved Hollywood actress Anne Hathaway has somehow struck the wrong chord in the media.
With her pixie haircut and big brown eyes, aristocratic air, toothpaste smile and acclaimed roles in movies from 'The Devil Wears Prada' to 'Brokeback Mountain', her coronation as best supporting actress at the Academy Awards for her emotionally wrenching role in 'Les Misérables' should have been a moment of triumph.
But that's not the case.
The media and Internet at large piled onto Hathaway — often for her acceptance speeches this award season.
At one point, she was criticized for thanking the novel's author, Victor Hugo, in a BAFTA speech that impatient viewers deemed too long to begin with.
After the Golden Globes, she was panned for sweetly taking the microphone during the movie's best-musical-or-comedy win so that she could thank people whom she had forgotten on her first trip to the podium.
The 30-year-old beauty has now realised that she is the most hated woman in Hollywood.
Oscar's golden girl has become the target of the most astonishing vitriolic personal attacks by a legion of haters among cinema-goers.
"The best supporting actress winner almost won the most detested figure of the night," proclaimed one website, placing her a close second to reviled Oscar host Seth MacFarlane.
"People do not like Anne Hathaway," says Hollywood.com's Brian Moylan. "Their hatred is vehement."
As she made the rounds of awards shows this year her speeches appeared too practised, complained naysayers.
With each victory she seemed to struggle harder to feign humility.
Her gushing Golden Globes speech, which many critics viewed as coldly calculated faux-surprise, inspired a tsunami of online hate: 19,685 tweets per minute.
A typical example: "Can't watch the Golden Globes any more b/c Anne Hathaway called her award a 'weapon of self-doubt' and I threw my pizza at the TV and shattered it."
Her whispered opening words on winning the Academy award – "It came true…" – only gave her detractors more ammunition.
Search Google for "Anne Hathaway" and "hate" and you'll find around 36.5 million hits. Dispirited, Hathaway confesses: "It does get to me."
Online the army of Hathaway haters is burgeoning. "I love that everyone has their own personal reason for hating Anne Hathaway but in the end we can all come together to agree she's awful," posted one contributor.
Another tweeted: "It's like they took all the things that people find annoying and put them in one person."
And among the other similar sniping observations was: "Anne Hathaway reminds me of that kid in school all the other kids didn't really like but all the teachers loved."
The actress who never receives negative press for bad behavior on-set or offending colleagues is probably too good and poised for public liking.
Follow Emirates 24|7 on Google News.