Will Aamir Khan's son take Hema Malini-Esha Deol route to Bollywood?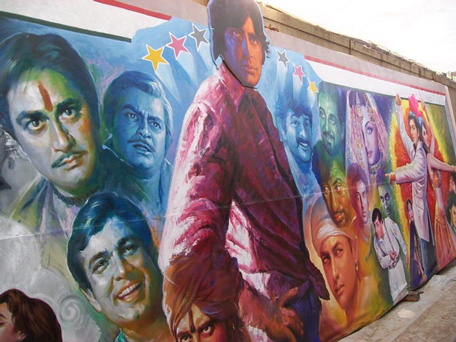 They are born with a silver spoon, with their highly influential parents pledging to give them the best shot at Bollywood fame, yet the new crop of B-town star kids are unwilling to take any familial favours and want to walk the path untouched.

It's no more about big banners and mushy love stories, but something more substantial for their debut act.

And, they aren't banking on their family, but on a great film script, for that first push.

"Earlier they would just wait for their powerful parents to produce a lavish movie. But now they want to be more daring," observes a Mumbai-based film writer.

It's not about the glitz and glamour but about the talent.

With the industry suddenly abuzz with new-age films, star kids aren't ready to bank merely on their bloodline.

"Back in the day, such debuts did work, but not anymore. Now there's immense competition.

"I don't want to take any examples but Hema Malini attempted to give her daughter Esha a new lease on life by directing her, but it flopped miserably. It would've worked in the past but not now."

It's about discovering new roles to play in the movie industry, and most importantly to do it on their own.

When Alia Bhatt burst into the scene with the typical song-and-dance movie, it did appear to be the obvious choice for the daughter of director Mahesh Bhatt, but it wasn't so. Her uncle and film producer Mukesh Bhatt told Emirates24|7 that "she only wanted to become an actress.

"It didn't have anything to do which family she was born into. She just dreamt of being a star. On the other hand, Pooja (the older daughter of Mahesh who also started out as an actress) was a reluctant actress, but Alia always wanted to be an actor. This is all she wants."

Even, Ranbir Kapoor and Sonam Kapoor, had first worked as assistant directors in Sanjay Leela Bhansali for 'Black' before donning the acting hat for the same filmmaker's 'Saawariya'.

Now, there's another crop of star kids waiting to make their debut, and they are making some different choices for their first Bollywood act.

Aamir Khan's first-born Junaid will assist director Raju Hirani in 'Peekay'. The movie stars his father in the lead, but will see his son taking a back seat.

It is reported that Junaid was keen on the action behind the camera, rather than in front of it.

Aamir apparently told him that the best way to learn about filmmaking was to turn AD on the film set. "Junaid isn't cut out for acting, and he is not going to become an actor just because his dad is one, and a successful one at that," opined a movie blogger.

Another star son who is going to give Junaid a run for his money will be Sunny Deol's son Karan.

Despite hailing from a family of actors, Karan isn't making his acting debut before doing a bit of leg work himself.

Karan is currently working as an assistant director to Sangeeth Sivan for 'Yamla Pagla Deewana 2'.

Anil Kapoor's (not-so) little boy Harshwardhan will take his acting debut in a short film titled 'Coming Home'.

Directed by Steven Roy Thomas, it will also star Katrina Kaif's kid sister Isabel.

Meanwhile, Harshwardhan is also assisting director Anurag Kashyap on the Ranbir Kapoor-Anushka Sharma starrer 'Bombay Velvet'.

Clearly, his older sisters aren't influencing how he chalks his path in the movie industry.
Famed director David Dhawan's older son Rohit decided to follow in his dad's footsteps, and direct a movie, but the younger Varun put on his dancing shoes for Karan Johar's 'Student of the Year'.
And, before unveiling his acting skills, Varun had worked as an assistant director in Karan Johar's 'My Name Is Khan'.
Bollywood's notorious villain Shakti Kapoor's son Siddhant was busy spinning fun tracks as a DJ, before being bitten by the acting bug.
He will play shades of grey in Sanjay Gupta's 'Shootout At Wadala' and another impactful role in Anurag Kashyap's 'Ugly'.
Follow Emirates 24|7 on Google News.