Will Bollywood's Madhuri, Sridevi and Amitabh steal jobs from TV stars?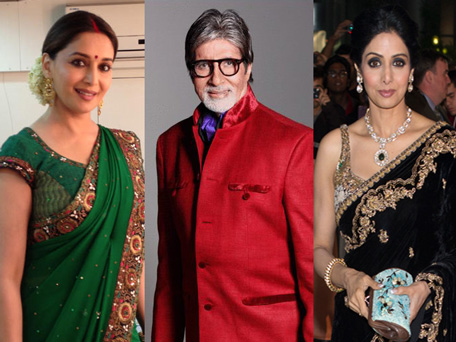 Just as fans were recovering from the surprise news that superstar Amitabh Bachchan could possibly be headlining a daily television soap in the near future, news filters down that yesteryear diva Madhuri Dixit is poised to do the same.
The rumour mill in Bollywood is abuzz that the mother of two is in talks with a top Indian channel to star in the official remake of the popular US Emmy winning legal drama, 'The Good Wife'.
While no confirmation has been forthcoming as yet from the Dixit camp, the question that begs to be asked is: Is the lure of the idiot box so heady (read lucrative) that top Bollywood glitterati is shedding the stigma to make career moves that were once considered suicidal?
The galaxy of top-rated stars making the transition into reality TV and the corresponding pay packet could be driving forces behind this upward trend.
Salman Khan's upped the stakes last year with his approximate Rs400 million payout, or Rs40m per episode, for hosting season six of 'Bigg Boss'.
His numbers were closely followed by that of Aamir Khan, who commanded Rs30m per episode for the talk show, 'Satyamev Jayate', followed by Shah Rukh Khan's Rs20m per episode salary of Rs20m for 'Total Wipeout: Zor Ka Jhatka'.
Meanwhile, Bachchan took home the grand prize for signing on a whopping deal of Rs1 billion for three seasons of 'Kaun Banega Crorepati' allegedly.
And even though these celebrity names have been ruling the airwaves this past decade with their starry status bumping up the TRPs, few have yet to make that transition from reality to glycerine infused daily soaps.
Could Dixit and Bachchan turn the tide?
While it is premature to speculate, this is certainly not the first time top-billed Bollywood actors have transitioned into soaps.
Sridevi – Malini Iyer
Before there was Shashi Godbole, there was Malani Iyer.
Back in 2004, Sridevi burst onto television screens with her comedy show 'Malini Iyer' on Sahara Manoranjan, produced by the diva's husband Boney Kapoor.
Sahara was clearly focussing on Sri's star power to drive the show and her channel to super stardom, and it worked for a while.
According to TAM Media data covering Hindi-speaking markets, the channel share of Sahara Manoranjan shot up to 5.43 per cent in its launch week, from a low of 1.09 per cent.
However, the limited episode comedy about a south Indian Tamil Brahmin girl marrying a Punjabi boy, went off air in 2005, much to the disappoint of Sri's fans.
Albeit, the actress has made a dramatic and critically successful comeback with last year's film, 'English Vinglish'.
Karisma Kapoor – The Miracle of Destiny
With a title such as the one its makers chose, 'Karishma - The Miracles of Destiny' was doomed from the start, despite an all-star cast that included Karisma Kapoor, Arbaaz Khan, Arshad Warsi, Sanjay Kapoor and the list goes on.
The show was first aired on Sahara One back in 2003 ran over 262 episodes, ending in October 2004, with a whopping budget of Rs600m – huge for the time.
However, the drama, chronicling the life of 60-year-old Karishma from her humble beginnings, flopped.
Anil Kapoor – 24
After his Hollywood breakthrough performance in 'Slumdog Millionaire', followed by his TV stint on '24', it was only natural that Anil Kapoor would use his star power to bring that adrenaline charged hit show to an unsuspecting Indian audience.
The actor has confirmed he will headline the show, filling in the shoes of Keifer Sutherland, who played the iconic Jack Bauer on the show's eight-season run in the US; incidentally, Kapoor played President Omar Hassan on '24's last season, playing the president of some fictitious Middle Eastern country.
Earlier in Dubai, the actor told Emirates 24|7: "We are going to retain the 24-hour format of the show, shooting it in real time. I am very excited to see how it will pan out for Indian audiences. But I am confident of its content and its success."
The latest news is newcomer Adhish Khanna is set to make his big debut on the small screen, who will play Kapoor's son Veer in the Indian remake.
Follow Emirates 24|7 on Google News.