Will Shah Rukh, Salman Khan fight for Eid dates?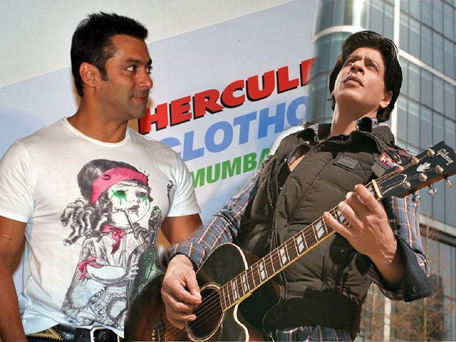 Bollywood always has big releases lined up for big Indian festivals and both the audience and the box office love to bask in the glory of these big festival releases.
Some of the top cine stars have already booked not only the festivals of 2013 but also 2014 to release their films.
It's almost always a Khan-tastic festive season in Bollywood, with Salman Khan booking the Eid dates, Shah Rukh Khan the Diwali and Aamir Khan eye Christmas to release their movies.
But this year the Eid dates might just be a bone of contention for Salman and Shah Rukh.
This time eyeing an Eid release is not only Salman Khan but also his arch rival Shah Rukh Khan.
The buzz is that the preparation for Sohail Khan directed film 'Mental' starring Salman has just started and it is uncertain whether their film will be able to make it to the finishing line on time.
Meanwhile, Rohit Shetty's film 'Chennai Express' starring Shah Rukh Khan and Deepika Padukone is in the race, competing with Salman's film to meet the Eid weekend deadline, clearly pointing towards a situation that might get unpleasant in light of the sour chemistry that SRK and Salman share.
There is no confirmation or denial from Salman's side about the Eid release.
Ever since Salman Khan hit a jackpot with his 2009 film 'Wanted' that released on Eid the festival became synonymous with the star.
Meanwhile, Akshay-Sonakshi starrer 'Once Upon A Time In Mumbai Again' by Balaji Motion Pictures has grabbed the opportunity and has confirmed it's release on Eid.
Now, what remains to be seen is that who will be the titans clashing at the box office- Akshay and Salman or Akshay and Shah Rukh?
MUST READ:
Bollywood goes 'global with Pakistani, Lankan, Bangladeshi artists
Valentine's gift: Kareena wants more diamonds from husband Saif
Baby bump on display? Pregnant 'bikini-clad' Kate Middleton...
Follow Emirates 24|7 on Google News.