Will Smith 'gettin' jiggy' with Dubai in a surprise NYE performance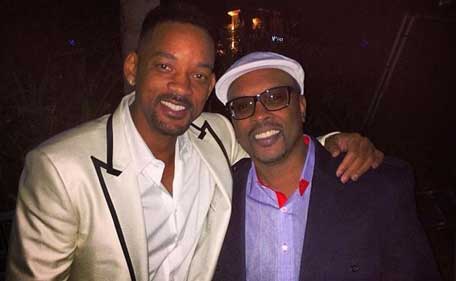 A select few Dubai's residents were in for the biggest surprise of their lives when Hollywood A-lister Will Smith jumped up on stage to belt out a surprise performance at Barasti.
Smith was at the beachside bar on New Year's Eve with wife Jada Pinkett Smith, celebrating the night and his wedding anniversary, when he decided to entertain the unsuspecting audience with an impromptu performance of 'Gettin' Jiggy Wit It' with his one-time rap partner and close friend DJ Jazzy Jeff from his Fresh Prince days.
Smith came on at the stroke of midnight, just as the Burj Khalifa fireworks lit up the night sky.

People took to Twitter posting comments of this New Year surprise, calling it 'epic' and praising Smith's performance.

Matthew Collins said: "Starting the New Year with DJ Jazzy Jeff and Will Smith – Fresh Prince Barasti Beach."

DK tweeted: "It's crazy how Will Smith came from out of nowhere last night and killed it on stage!"

Natasha Vallen said: "Epic surprise for Barasti guests last night with Will Smith surprise appearance."

Rohan Manglani wrote: "How good was Barasti tonight. Mad music! Will Smith in the house. This year should be epic for all."

Smith and wife Jada's very public anniversary holiday in Dubai has quelled rumours of a possible split on the cards that has been hounding the Hollywood power couple all of 2013 amidst rumours of affairs and marital discord.
The couple flew in from Los Angeles, sans the children, being pictured holding hands last night at the Le Meridien Mina Seyahi beach bar.

Later, DJ Jazzy Jeff posted a comment on his official Facebook account with a picture that was reminiscent of their Fresh Prince days, saying: "Guess who came to rock with me in Dubai for New Years! Happy 2014!"
He posted a short video right after, adding: "Happy New Years from Dubai! Dj Jazzy Jeff & The Fresh Prince! Happy Anniversary to the Smiths."
Follow Emirates 24|7 on Google News.