William Shatner, 30 Seconds to Mars in world Comic Con Dubai weekend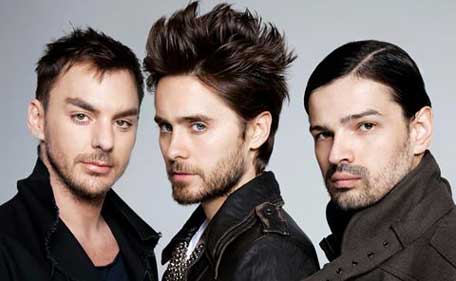 In an inter-galactic scoop, two of the biggest cult names in showbiz will be heading to Dubai in April for the Middle East Film and Comic Con (MEFCC) three-day weekend.
William Shatner, best known as the iconic Captain James T Kirk from the original 'Star Trek', will be attending the fan favourite event at the Dubai World Trade Centre (DWTC), which will be held from April 9 until 11.
Also collaborating with MEFCC, rock icons, 30 Seconds to Mars, will return to UAE shores for a one-night only concert on April 10.
Beam me up, Scotty
As a headliner guest, Shatner has been beloved by several generations of cult television fans as the square-jawed Captain Kirk, the ultimate street cop TJ Hooker or the wily and weird legal eagle Denny Crane on 'Boston Legal'.
The actor, who is also the brand ambassador of online travel site Priceline, will be meeting fans for the whole weekend at MEFCC, according to organisers.
From past to present, Shatner will also find company of fellow Trekkie, Karl Urban, who currently essays the role of Dr Leonard 'Bones' McCoy in the new 'Star Trek' franchise reboot.
In case your Trekkie trivia doesn't extend that far, Urban also played the beloved Éomer in the 'Lord of the Rings' trilogy, along with Judge Dredd in 'Dredd' (2012).
Joining the two celebrity guests is sci-fi legend, Sam Jones, best known for his iconic role as Flash Gordon, who made one of the most talked about cameo's in recent years in the smash hit 'Ted'.
Rock on
Fans, meanwhile, who missed out on Oscar winner Jared Leto and his band perform in Abu Dhabi back in 2011 can cut a ticket for 30 Seconds to Mars, as the band performs on April 10.
Organised by Live Nation Middle East, in collaboration with the MEFCC, the American rock band comprises brothers Jared Leto and Shannon Leto, along with lead guitarist Tomo Miličević, with the trio selling over five million albums worldwide, with the band's videos generating over 500 million YouTube views.
The band is noted for its energetic live performances including their number one hit singles, 'From Yesterday', 'Kings and Queens' and 'This Is War'; the band's fourth studio album 'Lust Love Faith + Dreams' debuted at number six on the Billboard 200.
Recently the band released their critically acclaimed music documentary 'Artifact' on iTunes worldwide where it has been a regular at the top of the charts.
In a statement, Tyler Mervyn, Senior Vice President of Talent said: "Live Nation is very excited to welcome 30 Seconds to Mars to Dubai
"Leto's showmanship and the band's skillful execution will leave little doubt as to why they have such devout fans. Their live sets are filled with energy and inspiration and we simply can't wait."
Tickets go on sale on Wednesday February 11, 2015 at noon and are available via Ticketmaster.
Also see: Movie Listings in UAE
Follow Emirates 24|7 on Google News.