Woody Allen rejects 'untrue and disgraceful' sex abuse claims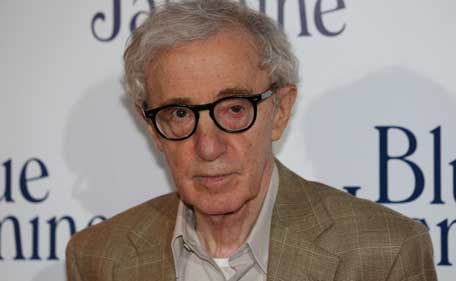 Legendary film director Woody Allen hit back Sunday at his adopted daughter's allegations of sexual abuse during her youth, calling them "untrue and disgraceful."
In a strongly-worded statement, Allen's New York publicist emphasized the filmmaker had never faced criminal charges over the claims and that experts at an earlier hearing had found there was no evidence of molestation.
"Mr Allen has read the article and found it untrue and disgraceful," publicist Leslee Dart said, adding that the director would be responding "very soon."
The statement came one day after Dylan Farrow, adopted by Allen during his relationship with actress Mia Farrow, spoke in detail for the first time about the alleged abuse inflicted on her by her father.
In an open letter on a New York Times blog, the 28-year-old said she was abused by Allen as a seven-year-old.
"He told me to lay on my stomach and play with my brother's electric train set. Then he sexually assaulted me," Farrow wrote.
She suggested that other abuse may have started even earlier, saying: "For as long as I could remember, my father had been doing things to me that I didn't like."
The unproven allegations first emerged in the aftermath of Allen's acrimonious split with Mia Farrow in 1992.
Dart stressed that an investigation by court-appointed independent experts at the time found no evidence of wrongdoing.
"The experts concluded there was no credible evidence of molestation, that Dylan Farrow had an inability to distinguish between fantasy and reality, and that Dylan Farrow had likely been coached by her mother Mia Farrow," Dart said.
Allen, 78, left Mia Farrow after starting a relationship with the actress's adopted daughter from a previous marriage, Soon-Yi Previn.
A New York judge in the 1994 custody battle between Allen and Farrow ruled that the abuse allegations were inconclusive, but at the same time lambasted the director as "self-absorbed, untrustworthy and insensitive."
Hollywood's 'turned a blind eye'
The younger Farrow accused the Hollywood establishment of sweeping Allen's alleged crimes under the carpet by continuing to honor his films.
Allen was honored with a lifetime achievement award at the Golden Globes last month and his latest movie "Blue Jasmine" is nominated for three Oscars at next month's Academy Awards.
Farrow called on three of the stars of "Blue Jasmine" -- Australian actress Cate Blanchett, Alec Baldwin and Louis C.K. -- to examine their relationship with Allen, asking pointedly: "What if it had been your child?"
"Woody Allen was never convicted of any crime. That he got away with what he did to me haunted me as I grew up," she wrote.
"That torment was made worse by Hollywood. All but a precious few (my heroes) turned a blind eye. Most found it easier to accept the ambiguity, to say, 'who can say what happened,' to pretend that nothing was wrong."
Farrow's attack on the Hollywood establishment has led to speculation that "Blue Jasmine" could suffer a backlash at the Oscars on March 2.
The film's distributors, Sony Pictures Classics, appeared to address those concerns in a separate statement, stressing that Allen was entitled to a presumption of innocence.
"This is a very complicated situation and a tragedy for everyone involved," Sony said.
"Mr Allen has never been charged in relationship to any of this, and therefore deserves our presumption of innocence.
"Films are major efforts of collaboration. There are scores of artists and crafts people behind 'Blue Jasmine.' We support and celebrate their extraordinary work here."
Follow Emirates 24|7 on Google News.