World's highest-paid: Jennifer Lawrence or Scarlett Johansson?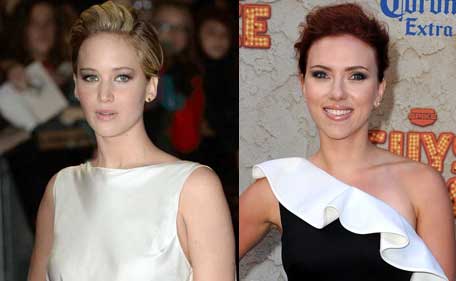 The odds really were in Jennifer Lawrence's favor last year as she raked in $52 million, topping a ranking of the highest-paid actresses by a wide margin.
The 'Hunger Games' star easily surpassed the $35.5 million second-place Scarlett Johansson earned over the past 12 months, according to Forbes magazine's annual estimates of the earnings of Hollywood's top female stars, released Thursday.
Best Actress winner Jennifer Lawrence celebrates in the press room for her role in 'Silver Linings Playbook' during the 85 Academy Awards on February 24, 2013 in Hollywood, California. (AFP)
All told, four women made more than $20 million from their acting and endorsements, before taxes and fees, while 21 male actors did, underlining a lingering pay gap in Tinseltown.
Forbes pointed to the discrepancy in profit cuts between the male and female - including Lawrence - actors in the 2013 film 'American Hustle' as an example. The male leads were reported to have taken home a two percent higher cut than the female leads.
The magazine also noted the lesser number of female lead roles in general, saying it was rarer for women to score the sort of big blockbusters that command huge deals won by some male counterparts, for instance Tom Cruise in 'Mission: Impossible' or Robert Downey Jr. in 'Iron Man.'
Jennifer Lawrence, best supporting actress nominee for her role in 'American Hustle', wearing a Dior gown poses on arrival at the 86th Academy Awards in Hollywood, California. (Reuters)
Downey Jr. blew away his male counterparts in Forbes' rankings of the top-paid male stars, released earlier this month, raking in $80 million.
At 25, Lawrence is one of the youngest stars in Hollywood. She won an Oscar for her role in the 2012 comedy 'Silver Linings Playbook.'
Many more established actresses, such as Julia Roberts, Jennifer Aniston and Sandra Bullock - last year's highest-earning actress - got most of their earnings over the past 12 months from endorsements rather than movies.
One international star made the 2015 list - Chinese actress Fan Bingbing.
The complete list included all the actresses Forbes estimated to have earned more than $6 million:
1. Jennifer Lawrence / $52 million
2. Scarlett Johansson / $35.5 million
3. Melissa McCarthy / $23 million
4. Fan Bingbing / $21 million
5. Jennifer Aniston / $16.5 million
6. Julia Roberts / $16 million
7. Angelina Jolie / $15 million
8. Reese Witherspoon / $15 million
9. Anne Hathaway / $12 million
10. Kristen Stewart / $12 million
11. Cameron Diaz / $11 million
12. Gwyneth Paltrow / $9 million
13. Meryl Streep / $8 million
14. Amanda Seyfried / $8 million
15. Sandra Bullock / $8 million
16. Emma Stone / $6.5 million
17. Mila Kunis / $6.5 million
18. Natalie Portman / $6 million
Follow Emirates 24|7 on Google News.