You are invited: Alia Bhatt, Arjun Kapoor 'to be engaged'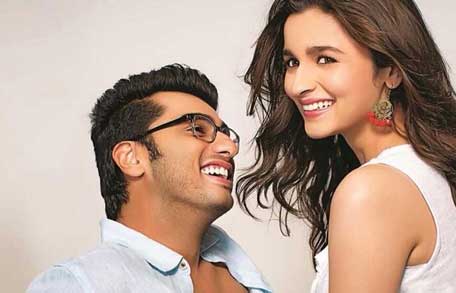 There you go - finally the truth about Bollywood actress Alia Bhatt and Arjun Kapoor is out.
The buzz about their growing proximity has been earlier denied but now they have finally decided to come out and declare their relationship.
The two actors are getting engaged!
Alia Bhatt herself invited everyone to her engagement. Her latest Twitter post reads: I'm getting engageddddddd !!! ;) and sent out an invitation.
Confused? Don't be.
The 20-year-old actress, fresh from the success of 'Highway', posted an invite to the launch of the promo of her news film '2 States' which co-stars Arjun.
The invite reads: 'As esteemed members of the family, you are invited to the engagement ceremony (or the 2 States movie promo launch) between Krish Malhotra (Arjun Kapoor) & Ananya Swaminathan (Alia Bhatt).
The promo of 2 States, based on a novel by author Chetan Bhagat, is out on February 28.
The author is doing his bit to promote the movie and wrote on micro blogging site: "Hi guys. There's an engagement in the family day after, Feb 28, 12 noon. Short notice, but hope you guys can make it."
'2 States' is the love story of a couple coming from two different states in India. So Alia Bhatt plays a south Indian girl sans the accent, Arjun Kapoor is the quintessential north Indian boy.
To be produced by Karan Johar, the film will hit the theatres on April 18. Arjun plays the character of Krish Malhotra and Alia plays Ananya Swaminathan in the movie.
Follow Emirates 24|7 on Google News.