You won't believe the cost of Katrina's red hair colour in 'Fitoor'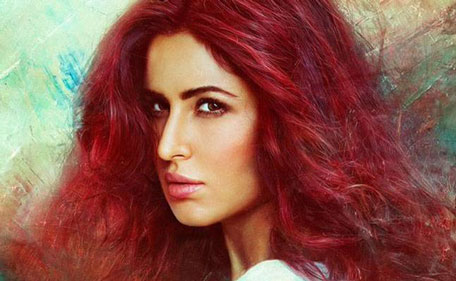 Studio bosses at the UTV Motion Pictures went red when they looked at the expense reports of 'Fitoor'.
Turns out that the film has cost them more than they'd originally budgeted. But that's not what drained the colour from their faces.
According to industry insiders, the producers were horrified to learn that they've shelled out roughly Dhs2,97000 (Rs 55 lakh INR) on - wait for this - Katrina Kaif's hair colouring alone.
Apparently the actress couldn't find any professional locally who could give her mane the desired shade of red for the character.
So she ended up recruiting a London-based hair colouring expert, Mira Parmar, for the job.
'Fitoor' stars (from L to R) Katrina Kaif, Aidtya Roy Kapur and Tabu. (Supplied)
This, of course, meant that she needed to zip across to London every few months for a fresh coat... and everyone knows Katrina is no budget traveller. She flew First Class, and her accompanying manager, Business Class.
Plus five- star hotel accommodation on each trip. All added up, it's cost the makers a pretty packet, and from what one hears, they're not thrilled.
Director Abhishek Kapoor tried to justify that red tinge - "it is a metaphoric representation of the chinar leaves found in Kashmir. The leaves, when they turn red, are so enchanting and so fascinating, just like the leading ladies in our film. They also have red hair in the film and they can be very captivating and seductive," said the director.
Bollywood actress Katrina Kaif wears a sheer panel Milly Spring 2015 dress on day of Cannes Film Festival, May 13, 2015. (Twitter/@KatrinaAtCannes)
Dhs2,97000 spent on hair to 'captivate and seduce audience'! What about sending her to some acting school in order to captivate her audience?
That coating was probably necessary for her to get away with her lack of acting ability.

Indian tabloids went gaga over her red hair whether or not it made any sense in the movie.

But foreign media were not so kind to Katrina when she made her debut appearance at Cannes film festival (2015). She was slammed by fashion enthusiast, especially for that red hair.
Katrina Kaif attends the opening ceremony and premiere of 'La Tete Haute' ('Standing Tall') during the 68th annual Cannes Film Festival on May 13, 2015 in Cannes, France. (Getty images)
'New York Post' slammed the red hair along with the black dress that she was wearing and mentioned it under the 'Dont's' column.
Journalist Timothy Mitchell in NY Post wrote: "Don't dye your hair this awful color... and then pair it with this awful dress."
Nyree McFarlane's report states - "THE DRAMATIC: Bollywood superstar Katrina Kaif brings the dramatic sex appeal in this Oscar de la Renta gown. While the contrast between the two colours looks a little harsh here, I think that's got something to do with the fact that about 1,000 men and women in tuxedos all have their flash trained on her at once. PS: Is it just me, or is her hair impossibly glossy? Like she rubbed butter all over it or something? Oh, okay, just me then ..."
Well, Katrina endured all the criticism only due to her dedication for the upcoming movie 'Fitoor'.
Alas! Such a shame to have spent Dhs2,97000 on a fiery colour that does nothing to Katrina's character or her beauty.
Follow Emirates 24|7 on Google News.