YouTube starts premium Bollywood channel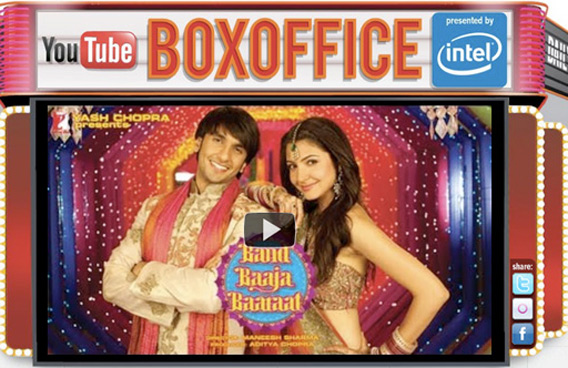 It would appear that India's pirated DVDs industry has just been its biggest blow at the hands of Google's YouTube.
In a shrewd marketing move, the video-sharing community website has launched YouTube Box Office, an exclusive free online channel that will screen premium Bollywood films every month, with the initiative kicking off with the Yash Raj Films runaway hit, "Band Baaja Baarat."
Hold your horses though if you reside in the UAE and are ready to drop it all to log on to YouTube to catch Anushka Sharma and Ranveer Singh shake a hip or two. The new channel will be available to all users in India but the will be IP blocked for users in other countries for now.
However, speculation is rife that the initiative could stretch to new markets, including the Middle East, in the long run.
How the system will currently work is the channel will be embedded with 15 second ad spots every 10 minutes that cannot be skipped, allowing the channel to be free to air, with Intel being the lead sponsor for YouTube Box Office. This also means viewers have the chance to watch these films in full HD (1080p) on big-screen with Intel Wireless Display (WiDi).
The channel will also feature other popular movies which users can watch for free from the YouTube catalogue of movies. This includes over 1500 titles, including regional language films. Alongside, puzzles, contests and premium content will also be added online to create a wholesome experience.
"The initiative opens up a new window of opportunities for marketers to utilise the platform and engage the YouTube community," said Gautam Anand, director content partnerships for YouTube Japan-APAC in a statement. "We wish to create a destination for users that is easily discoverable, and also helps our content partners get more viewers for their premium content. With over 48 hours of content being uploaded on YouTube every minute, this is our attempt to curate premium and exclusive content, which our users enjoy."
Yash Raj's general manager for digital and new media, Anand Gurnani, added: "Apart from offering tremendous reach, evolved digital platforms like YouTube also enable the monetization aspect through advertising revenues in an unobtrusive manner, while offering a great online viewing experience to the users. We are sure this project will throw up interesting insights and consumption patterns of the digital-friendly audience."
This isn't the first time that YouTube has implemented such initiatives in India. A recent premier of Salman Khan's mega hit "Dabangg"on YouTube got a phenomenal response from the users in India with over 1.3 million channel views. It had also partnered with Indiatimes to bring live-stream Indian Premier League Cricket games on YouTube, monetising the content through advertisements.
YouTube will collaborate with its partners like Yash Raj Films in India on a revenue share basis to bring more such premium content every month.

Follow Emirates 24|7 on Google News.