Yuvraj Singh stands by Virat Kohli and Anushka Sharma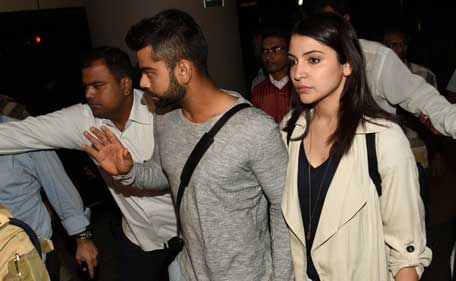 When Indian cricketer Virat Kohli got out after making just one run in the World Cup semi-final clash against Australia, his girlfriend Anushka Sharma, who was present for the match, was unfairly bashed on Twitter, provoking many celebrities to stand up for her.
Among them, Yuvraj Singh.
India all-rounder Yuvraj Singh has appealed to the cricket fans to respect Test captain Virat Kohli and his actress girlfriend Anushka Sharma's personal lives.
Sanskriti and Media Entertainment
Anushka, who was in attendance at the Sydney Cricket Ground during India's World Cup semifinal against Australia, was blamed for Kohli's failure in the match which the team lost by 95 runs.
"To all our real Indian fans who support us in our wins and loses ! Let's respect @imVkohli and @AnushkaSharma personal life," Yuvraj wrote on his twitter handle.
Sanskriti and Media Entertainment
The 33-year-old Yuvraj, who was Man of the Tournament in the 2011 edition but could not find a place for the just-concluded mega-event, was also supportive of Kohli.
"Someone who's scored 5 hundreds on Aus tour deserves much more respect and support from his fans!
"I'm sure in the coming times he will shine for his country again and again," he said.
Sanskriti and Media Entertainment
When Anushka Sharma was getting trolled on social media, many on Twitter trashed the haters.
Rishi Kapoor wrote, "With you my dear Anushka! Bunch of uneducated idiots who target you. Been through this dam thing. Jakho rakhe sanyaan maar sake na koi!"
Sanskriti and Media Entertainment
Indian Tennis star Sania Mirza tweetetd, "Blaming and joking bout Anushka??cz a woman can ONLY be a distraction and not a strength? Wht bout d other times we won or Virat made a 100?"
Co-star Priyanka Chopra also came out in Anushka's support, "So horrible to c a supportive girlfriend being lynched for a game she just watched!!Stop with the disrespect! #StillBleedBlue @AnushkaSharma."
Follow Emirates 24|7 on Google News.