Zendaya Coleman hits back: Racial slur for Oscar dreadlocks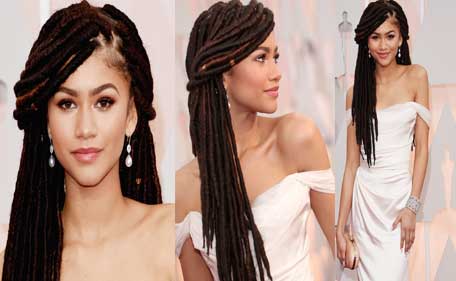 On Tuesday's episode of 'E! News,' Giuliana Rancic made a public apology, taking some time out of the broadcast to address the controversy.
"I want to apologize for a comment I made on last night's 'Fashion Police' about Zendaya's hair," she said. "As you know, 'Fashion Police' is a show that pokes fun at celebrities in good spirit, but I do understand that something I said last night did cross the line. I just want everyone to know, I didn't intend to hurt anybody. But I've learned it's not my intent that matters, it's the result, and the result is that people are offended, including Zendaya, and that is not okay. Therefore, I want to say to Zendaya, and anyone else out there that I have hurt, that I am so, so sincerely sorry. This really has been a learning experience for me."
AFP
So what really happened?
Zendaya debuted a new hair look on the Oscars red carpet: dreadlocks! She looked gorgeous, pairing the statement hairstyle with dewy makeup and bold brows.
The lissome and lovely Disney actress and pop singer caused a stir on the red carpet in a figure-hugging ivory-toned Vivienne Westwood slip of a goddess gown.
But what spoiled the fun was Giuliana Rancic's racial slur.
The E! show 'Fashion Police' is notoriously irreverent, harsh, even mean - those words are practically in the show's mission statement.
AFP
But when Giuliana Rancic said 18-year-old actress-singer Zendaya's dreadlocked hair probably "smells like patchouli oil" or "weed," many people felt the comment went too far.
Zendaya reacted to the comments by taking to Twitter and Instagram.
"To say that an 18 year old young woman with locs must smell of patchouli oil or 'weed' is not only a large stereotype but outrageously offensive," she wrote.
"There is already harsh criticism of African American hair in society without the help of ignorant people who chose to judge others based on the curl of their hair," reads part of the Disney star's post.
Since then, Zendaya has changed her main Twitter picture to herself at the Oscars, rocking the locs, plus uploaded a cover photo of fans who've posted social-media selfies of their same hairdo, in support of the 'K.C. Undercover' actress.
Celebrities including 'Selma' director Ava DuVernay and 'Scandal' actress Kerry Washington responded to Zendaya, praising her reaction.
"You're beautiful, Queen. We bless the ignorant and wish them well. Onward. xo," reads DuVernay's tweet.
Actress Chloe Grace Moretz tweeted "... people need to grow up, realize it's 2015, and act like it. Beautifully written."
AFP
Rancic apologized on Twitter, saying "I'm sorry I offended you and others. I was referring to a bohemian chic look. Had NOTHING to do with race and NEVER would!!!"
Despite Rancic's apology, many still feel it wasn't enough. Tuesday morning on 'The View,' Rosie Perez said the apology doubled down on the insult. "Everyone who's bohemian chic looks like they smoke weed and smells like patchouli?" she asked.
Whoopi Goldberg also weighed in on the subject, reminding Rancic of her own hairstyle, and adding that the only person who can pull off such caustic remarks is 'Fashion Police's' former host Joan Rivers.
"If you ain't Joan Rivers, back up, Giuliana," she added.
Even fellow 'Fashion Police" co-host Kelly Osbourne has voiced concern over the comment, tweeting that she is "seriously questioning staying on the show" as a result of the incident.
After receiving a lot of negative comments on Twitter, she wrote: "I WILL NOT BE DRAGED INTO THIS! The situation is being rectified like ADULTS by both parties. I hope you can leave it to them & do the same!
"you guys do realize that @Zendaya is my friend right?
"Im giving everyone involved 24 hours to make it right or the world will hear how I really feel. contactually Im not allowed to speak!
"I DID NOT MAKE THE WEED COMENT. I DO NOT CONDONE RACISM SO AS A RSULT OF THIS IM SEREIOULSY QUESTIONONIG STAYING ON THE SHOW! (Sic)."
Also see: Movie Listings in UAE
Follow Emirates 24|7 on Google News.