DED pledges support to Expo 2020 Volunteers programme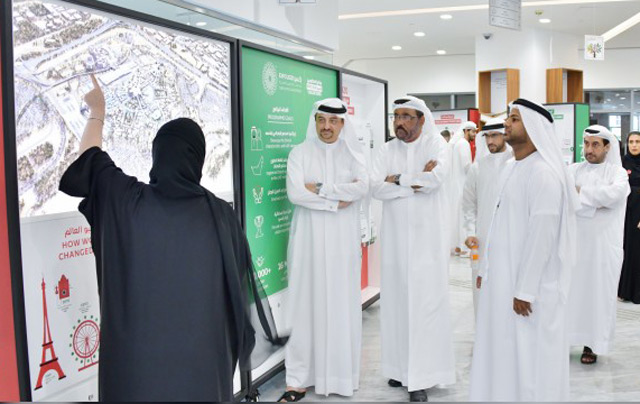 The Department of Economic Development, DED, in Dubai has received a team from the Expo 2020 Volunteers programme, which is on a tour of government and private sector entities in the emirate.
Ali Ibrahim, Deputy Director-General of DED, received the Expo 2020 Dubai portable stand, which arrived today at the DED Headquarters in the Business Village to promote volunteering and enlist volunteers ahead of the first-ever World Expo to be held in the Middle East, Africa and South Asia.
The Expo 2020 team presented an overview of the event and the volunteer registration process as well as the areas and assigned roles for volunteers, which includes VIP's & Protocol, Guest Services, Thematic Pavilions, Events, Ceremonies and Hospitality.
Mr. Ibrahim himself registered as an Expo 2020 volunteer and called on his colleagues to be part of the experience, saying, "We are delighted to welcome the Expo 2020 Dubai team and express our commitment to volunteering during the event as we believe in the potential of our employees and their willingness to give. We also invite our employees to be part of the event and express their commitment to volunteering and the society in general. Volunteering is essentially a skill that complements our work and daily lives."
He added that DED will also encourage its private sector partners to join as volunteers in Expo 2020 Dubai and use it as an opportunity to demonstrate their solidarity with the government sector to the millions of visitors expected during the event.
Abeer Al Hosani, Head of Volunteers, Expo 2020 Dubai, said, "Our volunteers will help demonstrate authentic Emirati hospitality and the values of respect, tolerance, compassion and humility, for which this country stands. The citizens and residents of the UAE, therefore, have an important role to play in welcoming millions of people from around the world to Expo 2020 and to the UAE.
"The UAE leadership has always placed special importance on 'giving back' to the community, and this is particularly relevant in the Year of Zayed. We have seen a tremendous response from DED employees today and we are grateful for their support in making this national event a success."
Follow Emirates 24|7 on Google News.