Fixing A380 cracks to cost $130m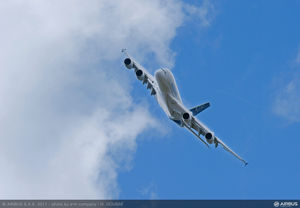 Tiny cracks detected in January in the wings of some Airbus A380s will cost around 100 million euros to fix, the German weekly Der Spiegel reports in its edition to appear on Monday.
Experts and internal sources at Airbus estimate that repairs and inspections on the super jumbos, ordered by the European Aviation Safety Agency (EASA), would cost about one million euros ($1.3 million) per aircraft, for a total of 100 million euros, Der Spiegel said.
An Airbus spokesman said in January that "micro-fissures show up regularly on an airplane. There's nothing abnormal, and of the 67 aircraft in service, only a small number are concerned."
The A380 is the world's biggest passenger jet and a key product in Airbus's line-up as it battles its main rival US giant Boeing for the top spot in the world civil airliner industry.
Airbus, a subsidiary of EADS, currently builds 2.7 A380s per month, with plans to step up production to 3.5 per month by the beginning of 2013.
The double-decker plane entered service in 2007 after years of technical delays.
The plane carries more than 500 passengers, or more than 800 if configured entirely in economy class.
EADS is a private company in which the French, German and Spanish governments own substantial direct and indirect stakes.
AFP
Follow Emirates 24|7 on Google News.