Flydubai flies to its 50th destination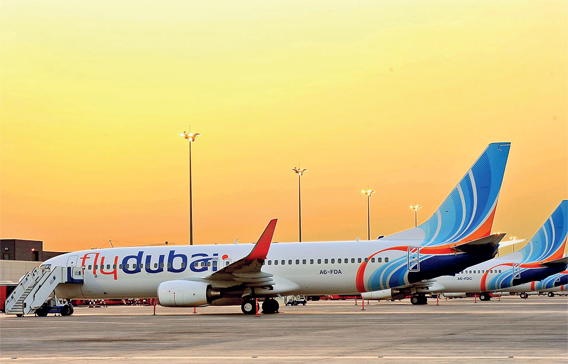 Low-cost airline flydubai has announced that it has started flights to its 50th destination in less than three years since launching operations in 2009.
The carrier reached the half century mark when its inaugural flight to Bishkek in the Kyrgyz Republic landed at Bishkek International Airport on Wednesday.
The flight expanded the fast-growing carrier's operational route network to 28 countries across the GCC, Middle East, North Africa, Indian sub-continent, Asia and Central and Eastern Europe.
Flydubai's CEO Ghaith Al Ghaith said Wednesday's flight illustrated the airline's strategy to open up destinations that were previously underserved by direct air links to the UAE.
"This inaugural flight represents an important moment in flydubai's illustrious growth. When we started operations in June 2009, we made a conscious decision to expand as quickly as possible, adding aircraft and destinations at a rapid pace in order to offer more choice and attract more passengers, thereby creating a sustainable and profitable business model for the future," he said.
Announced by the government of Dubai in March 2008, the vision for the airline was to provide a low-cost alternative on already popular routes from Dubai, such as Beirut, as well as to open up destinations that were underserved by direct air links to the UAE, such as Tbilisi, Georgia.
Flydubai has forged new trends by targeting destinations that did not previously have international flights such as Abha, Gassim and Yanbu in Saudi Arabia and became the first to offer direct flights to destinations such as Samara in Russia and now Bishkek in the Kyrgyz Republic.

Flydubai was also the first low cost carrier to start operations to Addis Ababa in Ethiopia, Yerevan in Armenia and Baku in Azerbaijan.
The carrier recently recently upgraded its in-flight entertainment system, offering more movies, TV programmes and audio than any other carrier in its class.

"As part of Dubai's commercial and tourism infrastructure, we represent not just Dubai's ambition and growth but also its commitment to quality. With this in mind, we have married a low cost model with innovation and excellent service. Our success proves that with smart investments, efficient operations and hiring the right people, low cost travel can be convenient, comfortable and cost-effective," stated Ghaith Al Ghaith.
The airline, which is now the second-largest carrier operating out of Dubai International Airport, currently operates a fleet of 21 Boeing 737-800 NG aircraft.

"We have come a long way from our first flight to Beirut in 2009 but we are not resting on our laurels. We will continue to expand our route network, fleet and services and incorporate ground-breaking systems; maintaining our growth trajectory while setting the bar amongst the region's airlines," added Ghaith Al Ghaith.
Follow Emirates 24|7 on Google News.