Global kidnap hotspots and ransom costs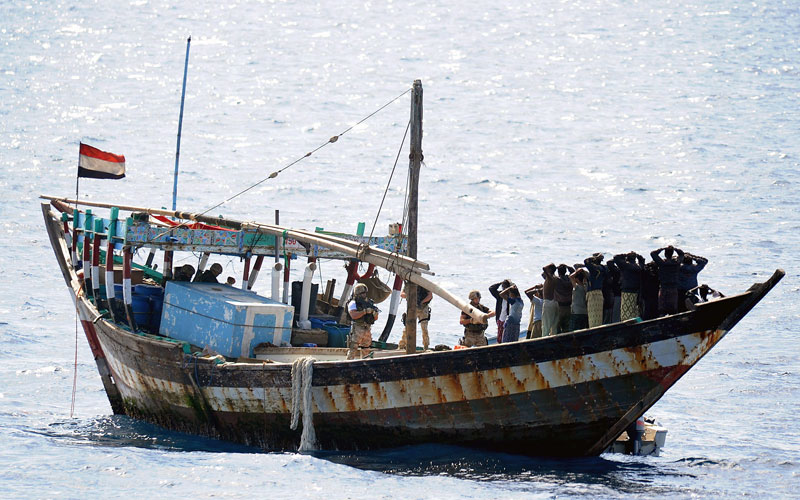 Kidnap and ransom trends are in constant flux, with Somali piracy and Mexican kidnapping on the up, while hostage-taking in Colombia and Iraq is in decline.
Below is an overview of global kidnap trends with estimates of the numbers of foreigners taken captive every month, compiled largely with information from risk consultancy AKE's quarterly kidnap and ransom report.

INDIAN OCEAN -- 95 PER MONTH
Somali pirates hijacking merchant ships in the Indian Ocean frequently take more foreigners hostage in a single month than all other kidnappers in the world combined. Experts estimate several hundred Somalis head out in small boats and increasingly on larger captured motherships, boarding vessels and sailing them to pirate havens. At any given time, the pirates are estimated to hold up to 700 hostages, mainly aboard their ships in worsening conditions. Ransoms have risen swiftly over the last year, with the record payment said to be $9 million for a Korean tanker late last year. The average settlement per ship is estimated to be $3-4 million, with ships usually held for more than 100 days. Shippers warn that despite international naval patrols, the problem is worsening to the extent ships may be forced to take a longer route around Africa, driving up costs.
MEXICO -- 20 PER MONTH
Kidnapping in Mexico is rising swiftly. Most attacks target migrant workers from elsewhere in Central and Latin America. These range from "express kidnappings", in which the victim is taken to an ATM and forced to pay their own ransom, to abductions lasting up to about 60 days. Abductions of Mexicans are on the rise, but limited reporting makes estimating the numbers difficult. So far, Western nationals have not tended to be targeted. The upper limit for a payout has reportedly been $30 million.
GULF OF GUINEA -- 5 PER MONTH
While the dangers of piracy and attacks on shipping and oil platforms in the Gulf of Guinea pale in comparison to those in the Indian Ocean, the threat is seen growing particularly ahead of Nigeria's April 2011 elections. Attacks tend to be more violent than those from Somali pirates and the danger to crew higher. The average time in captivity is less than 30 days and ransoms vary from $10,000-$2 million.
NIGERIA -- 1-2 PER MONTH
Kidnapping of foreigners and locals continues to be a problem in Nigeria, particularly in the Niger Delta with the threat from both militants and armed gangs. Ransoms for foreign nationals range from $28,000-$204,000, with ransom payments for Nigerians generally less than $100,000. Time spent in captivity is varied, with the longest period some 465 days.
SUDAN -- 1 PER MONTH
Kidnapping, particularly of aid staff in Sudan's Darfur region, is seen on the increase and is restricting relief operations. Charity workers, United Nations staff and African Union peacekeepers have all been targeted. The average time spent in captivity is 100 days. There is insufficient data to estimate average ransom payments for foreign nationals. Sudanese command ransoms of less than $100,000.
AFGHANISTAN -- 1-2 PER MONTH
The risk of kidnap of foreigners, particularly aid staff, reduces relief work in Afghanistan. A particularly high proportion of kidnaps there ended in violent deaths, either through execution or during special forces rescue missions. Foreigners kidnapped and released alive can wait up to 300 days, with ransoms ranging from $300,000-$750,000. Some 5-10 Afghans are taken hostage each week with ransoms of less than $100,000.
SAHEL -- 1 PER MONTH
Al Qaeda in the Islamic Maghreb (AQIM) appears to have stepped up efforts to kidnap foreigners in North Africa's Sahel region, while local tribes have also used this as a revenue stream. Experts estimate kidnapping could have given $65 million to AQIM since 2005, the majority of its revenue stream. French forces have taken an increasingly aggressive approach with mixed results as they launch military rescue missions.
PAKISTAN -- 1 PER MONTH
Both militant groups and criminal gangs kidnap Pakistanis and occasionally foreigners. Pakistanis are generally held for about 30 days for ransoms of about $50,000, while foreigners tend to be held for longer with the record being 500 days.
REST OF AFRICA
Democratic Republic of Congo and Somalia each see on average slightly less than one foreign national kidnapped a month. In Congo, risks are seen highest in the east, with extractive industry staff and aid workers most at risk. The number of foreigners kidnapped in Somalia is low as so few operate there, but ransoms can be as high as $3 million and victims held for prolonged periods. There are fears kidnapped foreigners might be sold to al Qaeda-linked Islamist groups who might kill them for propaganda value or try to trade them for prisoner exchange.
MIDDLE EAST
Kidnappings of both foreigners and local Iraqis soared in the aftermath of the 2003 US-led invasion but have since fallen sharply. Yemen is now seen as the Middle Eastern country in which foreigners are most at risk of kidnap.

ASIA
Outside Pakistan and Afghanistan, the greatest danger of kidnap in Asia is seen in the Philippines. Islamist militants have targeted wealthy Chinese-Filipino businessmen and students.
LATIN AMERICA
Kidnapping in Colombia has fallen sharply due to disarray amongst militant groups, public anger at the tactic and better coordination by security forces. Kidnapping is seen on the increase in Honduras, Guatemala and El Salvador.
EUROPE
The former Soviet Union is seen as having the highest risk of kidnap for foreigners, while a bad harvest has seen an increasing trend of farmers being kidnapped in an attempt to gain control of their grain stores. Short duration "tiger kidnaps" are becoming increasingly common in Western Europe due to the economic crisis, particularly in Northern Ireland and the Irish Republic.
Follow Emirates 24|7 on Google News.