Global NGO Endeavor opens in Dubai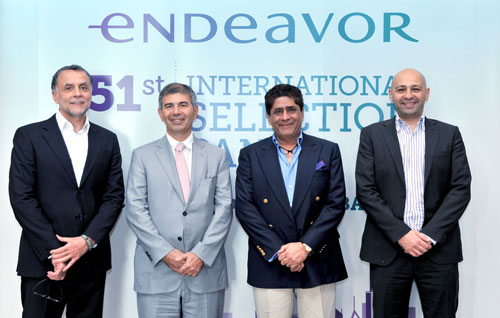 Global non-profit NGO that supports high impact entrepreneurs Endeavor announced the formal launch of a new affiliate in Dubai, representing its seventh affiliate in Mena region and expands the organization's presence to 19 countries around the world.
All Endeavor affiliates are spearheaded by a local board of leading business people and CEOs.
The new affiliate's board will be co-chaired by Muna al Gurg, Director of Retail at Easa Saleh Al Gurg Group and Patrick Chalhoub, co-CEO of Chalhoub Group.
Founding directors include: Avishesha Bhojani, Chairman of International Management Ventures; Fadi Ghandour, Vice Chairman of Aramex; Joseph Ghossoub, CEO of Menacom; Ahmed Galal Ismail, CEO of MAF Ventures; Souheil Hajjar, CEO MAF Trust; Badr Jafar, CEO of Crescent Enterprises; Noor Sweid, Founder of ZenYoga; Nilesh Ved, Chairman of Apparel Group and Mustafa Abdel Wadood, Partner of Chairman of the Management Executive Committee, Abraaj Group.
The board has named Noor Shawwa as Managing Director of Endeavor in the UAE, who will oversee a team at the affiliate's Dubai offices.
Patrick Chalhoub stated: "The establishment of Endeavor in the UAE makes us proud and we are excited to establish its operating model, especially since Dubai is considered to be a business hub and the crossroads for companies on a regional and global basis, which makes it a focus in the public eye."
He added: "Business leadership is an essential pillar for the creation of new and advanced opportunities and we will work diligently through Endeavor to help small and medium-sized companies expand internationally and meet global standards."
In separate comments, Fadi Ghandour said: "This is an essential step in helping Arab, and, in particular, Emirati youth achieve initiatives on a sound basis, enabling them to take advantage of business opportunities beyond their borders."
"We're thrilled to include the UAE as a member of the Endeavor network," said Endeavor co-founder and CEO Linda Rottenberg. "This is one of the world's fastest growing economies and we hope that we can help bring a number of locally based businesses to scale and play a role in fostering entrepreneurship here."
This announcement was made during Endeavor's 51st International Selection Panel, held in Dubai, in which two UAE-based companies were selected, PropertyFinder and Duplays. PropertyFinder was created in 2007 as the UAE's first online property catalog, an invaluable resource for developers and sellers to list their properties and for buyers/renters to locate available properties in seconds. Duplays, created in 2008, is a platform that helps individuals build and join sports networks and tournaments.
The launch of Endeavor in the UAE continues its rapid expansion in the Mena region.
While Endeavor's UAE team will focus on selecting and mentoring Emirates-based entrepreneurs with scalable business models from across all the Emirates, it is also expected to play a role in supporting other Endeavor entrepreneurs from across the region. Endeavor already operates in Egypt, Jordan, Lebanon, Morocco, Saudi Arabia and Turkey.
Follow Emirates 24|7 on Google News.