Indonesia volcano eruption: Three airports reopen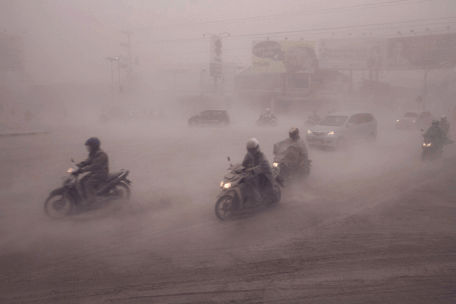 Three airports in Indonesia reopened on Saturday while four others remained closed, officials said, after a volcanic eruption killed three people and forced mass evacuations.
Mount Kelud, considered one of the most dangerous volcanoes on the main island of Java, spewed red-hot ash and rocks high into the air late Thursday night just hours after its alert status was raised.
"The airport in Malang city in East Java province, and Cilacap and Semarang cities in Central Java province have reopened. There's no problem flying there now. We are now evaluating the status of other airports," Transport Ministry spokesman Bambang Ervan told AFP.
Seven airports -- including those serving international flights in Surabaya, Yogyakarta, Solo and Bandung -- were forced to close Friday due to thick ash that blanketed eastern Javanese cities.
Ervan said the airports in Bandung and Surabaya are expected to reopen later Saturday, while the airport in Solo may reopen Monday and the one in Yogyakarta on February 18.
On Friday villagers in eastern Java described the terror of volcanic materials raining down on their homes, while AFP correspondents at the scene saw residents covered in grey dust fleeing in cars and on motorbikes towards evacuation centres.
The volcano spewed grey smoke some 3,000 metres (9,850 feet) into the sky on Saturday, National Disaster Management Agency spokesman Sutopo Purwo Nugroho said, but added that "volcanic activity showed a slowing trend".
Transport Ministry director general of aviation Herry Bakti said the authorities "will continue to monitor the movement of ash in the air via satellite".
"We were informed by the volcanology agency this morning that no more powerful eruptions are expected. So it is safe to fly and flights can resume. We will issue an update via notice to airmen," he told AFP on Saturday.
Three people were killed and around 200,000 people were ordered to evacuate following the eruption, though some families ignored the orders and others have returned home, with just over 75,000 now in temporary shelters, officials said.
The 1,731-metre (5,679-foot) Mount Kelud has claimed more than 15,000 lives since 1500, including around 10,000 deaths in a massive eruption in 1568.
It is one of 130 active volcanoes in Indonesia, which sits on the Pacific Ring of Fire, a belt of seismic activity running around the basin of the Pacific Ocean.
Earlier this month another volcano, Mount Sinabung on western Sumatra island unleashed an enormous eruption that left at least 16 dead and has been erupting almost daily since September.
Follow Emirates 24|7 on Google News.